China under spell of mighty 'Super Voice Girl'
By David J. Lynch (USA TODAY)
Updated: 2005-05-27 10:52
The name may not roll off the tongue quite like American Idol does, but that hasn't kept the Mongolian Cow Sour Yogurt Super Girl contest from sweeping China.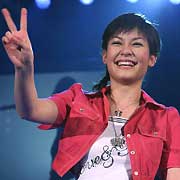 Zhao Jingyi, 17, the "schoolgirl" candidate won the Changsha competition. [usatoday]
Like Idol, which named its winner Wednesday night, China's Super Girl gives aspiring singing stars a shot at televised fame and fortune.
And amid an Idol-like mania, young women all over China have lunged at the opportunity. (But only women: There's no national Super Boy show.)
Last week, the spotlight fell on the regional finals in Changsha, a polluted industrial backwater known for its spicy food and its links to Mao Zedong, who graduated from a teachers college here in 1918.
The three-hour program, televised live, featured five finalists: a moody, Avril Lavigne-type rocker; a prepubescent baby doll; an energetic schoolgirl; a glamour queen in evening wear; and a rough-and-ready tomboy.
Almost 1,000 people crammed into a firetrap of a studio surrounding a postage stamp-sized stage. Silhouettes of dancers appeared on enormous screens behind the singers, along with a wall of monitors showing commercials for products such as Johnson's baby wipes.
As the night began, the rocker, Huang Jing, a college student majoring in advertising, seemed the favorite. But after she belted out her opening number in English, one of the four judges, music producer Cang Yanbin, chastised her. "You should trust the charm of the mother tongue," he said.
Throughout the night, there were plenty of similarities to American Idol. Contestants crooned syrupy songs like Pengyou ("Friend"), shed tears, offered heartfelt thanks and catapulted through numerous costume changes.
Though other amateur talent programs have aired on local television stations, Super Girl is China's first nationally televised show of its kind, according to Liao Ke, its co-creator and a program designer for state-owned Hunan province satellite television.
Unprecedented popularity
In a country where televised fare still features military officers belting out patriotic anthems, viewers have found Super Girl irresistible. "This is the most popular entertainment program we've ever done," Liao says.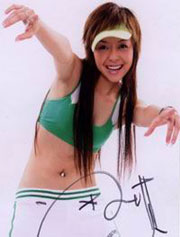 An Youqi, the champion of "Super Girl 2004", rises to stardom now. [baidu]

Ultimately, Super Girl will pit winners from each of five cities in a national final in the fall. When the program started a few months ago, more than 100,000 would-be singers ranging in age from 4 to 89 applied, Liao says.

To reach the Chengdu auditions, one teenager endured a 15-hour train trip from her home in western China, according to weekly magazine Liaowang Dongfan Zhoukan.

It reported that a woman from Fujian province traveled to each city in sequence, losing in the first round every time. She spent more than three months' wages before finally abandoning her quest for fame.

Through May 6, an estimated 30% of all television sets in the country ! or 210 million viewers ! had tuned in to an episode, The show drew its largest audience to date during the regional finale in the southern city of Guangzhou; more than 22 million watched. (Super Girl can be seen in the USA on the Dish Network satellite television system.)

Liao says he was only dimly aware of American Idol's British predecessor, Pop Idol, when he developed Super Girl.

He says the program grew out of China's rising standard of living, which has spawned more "colorful" entertainment options than in the days when art and entertainment were required to serve the country's Communist revolution.

"Everybody wants to express themselves, and Hunan TV just became the platform," he says. "It's like our logo says: 'If you want to sing, sing.' "

It's not just self-expression that motivates contestants. Last year's winner took homemore than $6,000 ! big money in a country with an average annual income of $1,100.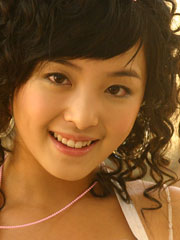 Zhang Haiyun, the second runner-up last year, is to release her debut solo album. [baidu]

Unlike the American Idol winner, the Chinese champion isn't guaranteed a recording contract. But she can go on to professional success. Zhang Hanyun, 16, who finished third in last year's national showdown, is now a household name.

She appears in print and TV ads for Mongolian Cow drinkable yogurt, one of China's best-known brands. She expects to release an album in July. There's also talk of a television series in which she'll appear as herself.

"I feel really lucky," she says.

Today, China is relentlessly commercial, individualistic and apolitical.

"If such a program happened five or 10 years ago, I don't think it would have been so influential. I don't think the ordinary people would have opened themselves up to participate," says An Youqi, 21, last year's Changsha winner. "People were pretty shy and pretty conservative."

Election night in China

Super Girl is surprisingly participatory. This remains a country where people can't elect their leaders. But they can vote for their favorite singers.

Like American Idol, the program features a panel of judges drawn from the entertainment industry. In Changsha, the four arbiters were an agent, a composer, a TV producer and a folk singer.

But the expert judges' influence is dwarfed by that of 31 other judges drawn from the ranks of laobaixing, or common people.

During a series of dizzyingly complex showdowns that eliminated two of the five contestants, the amateur judges cast their votes by walking across the stage to single out their favorites as the studio band banged out up-tempo rock.

The final round ! between Zhao Jingyi (the schoolgirl), She Manni (the glamour queen), and Huang Yali (the tomboy) ! was decided by more than 271,000 viewer votes cast that evening through text messaging.

After the totals were revealed one digit at a time by each singer's friends and parents, Zhao, 17, emerged victorious in a shower of confetti and sparklers.

"Ever since I was a little girl, I had this dream to stand on stage and sing," she said, clutching a bouquet in the dressing room after the show. "I realized my dream tonight."





| | |
| --- | --- |
| | |
| Jolie denies romance with Pitt | |

| | |
| --- | --- |
| | |
| Zhang Ziyi and Michelle Yeoh in V Life Magazine | |

| | |
| --- | --- |
| | |
| Miss Universe contest in Thailand | |
Today's Top News
Top Life News

Proposed bill to encourage Chinese in US schools




Battles won on drugs, but war rages on




China wants Games torch on Mt.Qomolangma




Shanghai targeting at property bubbles




China firm as US steps up yuan pressure




FM: Talks only way to East China Sea row