China says its Olympics will be cheaper than Athens
(Agencies)
Updated: 2005-05-27 09:12
China on Thursday forecast an operating budget of about $2 billion for the 2008 Beijing Olympics -- more than $300 million higher than originally forecast but still cheaper than Athens, a top official said.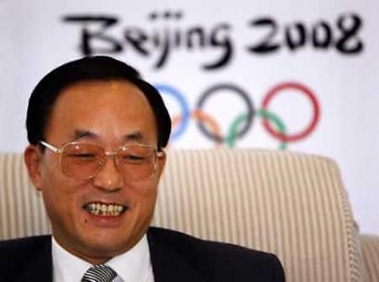 Executive vice president of the Beijing Organizing Committee for the 2008 Beijing Games Liu Jingming smiles during an interview in Beijing May 26, 2005. China wants to take the Olympics torch to the top of the world on the summit of Mount Everest and across Taiwan on its route to the 2008 Beijing Games, Liu said on May 26. [Reuters]
The city's original $1.625 billion forecast had to be raised because of security concerns after the September 11, 2001, attacks on the United States, said Liu Jingmin, executive vice president of the 2008 Olympics Organizing Committee.
"The budget for the whole Olympics will rise from the $1.6 billion. I estimate that it will be about $2 billion. But I think we will be lower than Athens budget," he told Reuters in an interview.
"Athens was the most expensive Olympics and we don't want to wear that hat." Liu said.
Athens set a budget of 1.9 billion euros ($2.4 billion) to stage the 2004 summer Games, but they ended up costing more than 9 billion euros, making them the most expensive in history.
The operating budget does not include the cost of construction.
By 2008, Beijing expects to have spent a total of $37 billion for the Games, including $2 billion on venues, but there has been controversy over the cost of the venues and the city temporarily halted construction of its showpiece 100,000-seat stadium while it reassessed the design.
"This year we will start construction of all the new venues. We have already started work on nine new venues," said Liu, who also serves as vice mayor of Beijing.
"Venue construction on the whole has been coming along smoothly."
Apart from the budget, Beijing had launched a propaganda campaign in press and on television to educate the public in sports etiquette, Liu said. Olympics organizers were in talks with sporting fan clubs about appropriate behavior at events.
"This is a problem we are paying very close attention to. I think it's extremely important that around the city, and at stadiums, that people show a high level of quality and welcome athletes and visitors from around the world," Liu said.
"We are going sport by sport to educate people when to applaud and when they shouldn't walk around. We're also teaching them how to watch different events and how to cheer athletes, not only Chinese, but also foreign athletes," he said. ($1=.7939 Euro)
| | |
| --- | --- |
| | |
| Liverpool's Triumph | |

| | |
| --- | --- |
| | |
| Spurs rally past Suns 111-108 | |

| | |
| --- | --- |
| | |
| Wade Show | |
Today's Top News
Top Sports News

Battles won on drugs, but war rages on




China wants Games torch on Mt.Qomolangma




Shanghai targeting at property bubbles




FM: Talks only way to East China Sea row




Focus on security, airlines instructed




Nestle baby formula pulled off the shelves