Roddick eliminated again at French Open
(Agencies)
Updated: 2005-05-27 09:06
Andy Roddick failed to make it through the opening week at the French Open for the fifth time in as many tries, blowing a two-set advantage Thursday and a fifth-set lead against Argentine Jose Acasuso.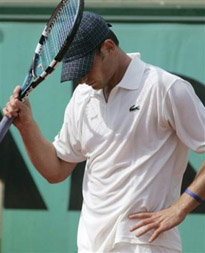 USA's Andy Roddick reacts as he plays Argentina's Jose Acasuso after their second round match of the French Open tennis tournament, at the Roland Garros stadium, Thursday May 26, 2005 in Paris. Acasuso won 3-6, 4-6, 6-4, 6-3, 8-6. [AP]

Roddick was broken twice after going ahead 3-1 in the last set and lost 3-6, 4-6, 6-4, 6-3, 8-6.

"I thought I had the better of him for the better part of three sets," Roddick said. "Unfortunately, the better part of three sets and three sets is something different."

Roddick's career record at Roland Garros fell to 4-5. His best showing was his first appearance in 2001, when he reached the third round.

The quintessential clay-court marathon began in 86-degree sunshine and ended 3 hours, 21 minutes later on a cloudy but muggy evening. Both weary players required leg massages from a trainer during fifth-set changeovers, Acasuso to his left thigh and Roddick to both calves.

Roddick tried curious tactics on match point, standing 10 feet behind the baseline to receive serve and then hitting two moon-ball backhands. The second landed short, and Acasuso slammed a forehand winner.

Was Roddick attempting to lure Acasuso into going for too much?

"Maybe I was trying to get him to pull the trigger," Roddick said. "I didn't get all of one and hit it short, and that was it."

When Acasuso delivered the knockout blow, he sank to the court on his back in exhaustion and jubilation. Roddick climbed over the net to shake hands.

For the second year in a row ¡ª and only the second time at a Grand Slam event in more than 30 years ¡ª no American men made it out of the second round. James Blake and Vince Spadea also lost Thursday.

"It stinks," Roddick said. "I don't think any of us are happy. We all have a lot of pride, and it has gotten taken down a lot in the last couple of years here."

Acasuso, ranked 62nd, improved his record in Grand Slam events to 5-15 and advanced to the third round at a major tournament for the first time in 16 events. He won a five-setter for only the second time.

Justine Henin-Hardenne's latest ailment failed to slow her down. The tournament favorite and 2003 champion required treatment for a back injury that bothered her serve, yet she still advanced to the third round by beating Virginia Ruano Pascual 6-1, 6-4.

After taking a 5-0 lead, Henin-Hardenne requested treatment during the changeover and grimaced as she stretched her back with help from a trainer. Henin-Hardenne said the previously undisclosed injury involves a nerve, dates back at least six weeks and isn't serious.

"I'm going to be fine for the next few days," she said. "I just wanted to be sure it wasn't going to be more serious. That's why I asked for the trainer. It was bothering me only on my serve."

Henin-Hardenne hit eight double faults and has 17 in two matches. She made only 45 percent of her first serves and was broken three times in the second set.

The injury is the latest in a series of ailments for Henin-Hardenne, who returned in March from a seven-month layoff due to a blood virus and knee injury. Despite rust, back pain and concerns about her stamina, she's 22-1 since returning and has won 19 consecutive matches, all on clay.

Henin-Hardenne's lone loss this year was at Key Biscayne to Maria Sharapova, a potential opponent in the quarterfinals.

Sharapova, seeded second, committed just 13 unforced errors and beat 18-year-old Frenchwoman Aravane Rezai 6-3, 6-2. Third-seeded Amelie Mauresmo of France defeated 15-year-old compatriot Alize Cornet 6-0, 6-2.

In men's play, No. 3 Marat Safin received treatment from a trainer twice in the first set and still beat qualifier Lukas Dlouhy 6-7 (6), 6-3, 7-5, 6-1. Dlouhy double-faulted 17 times.

Safin next plays No. 32 Juan Carlos Ferrero, the 2003 champion, who defeated Jan Hernych 6-4, 6-4, 6-2.

No. 8 Guillermo Coria, the 2004 runner-up, won when 18-year-old qualifier Novak Djokovic retired with respiratory trouble trailing 4-6, 6-2, 3-2. Djokovic said a sinus problem has bothered him for about a year.

Spadea quit because of a strained stomach muscle trailing No. 21-seeded Tommy Haas 6-4, 6-3. Spadea estimated he'll be sidelined four to six weeks, which could force him to miss Wimbledon.

Blake, like Roddick, blew a two-set lead and lost to Stanislas Wawrinka, 6-7 (9), 5-7, 6-1, 6-3, 6-4.

Roddick's match turned when he was broken for the first time to lose the final game of the third set. He lost serve again to fall behind 5-3 in the fourth set, and Acasuso served it out at love by hitting four winners.

"I felt like I was trying to hang on a little bit and wasn't able to," Roddick said.

With the match on serve three games into the final set, Acasuso requested treatment from a trainer, who massaged and stretched the Argentine's left thigh. Roddick broke serve in the next game, but Acasuso promptly broke back.

With Roddick leading 4-3, he requested his own timeout, grimacing and chewing on a towel as the trainer massaged both calves.

Though tired, both players came up with brilliant shots down the stretch. Acasuso went skidding into the corner to hit a backhand winner, then held out both arms and grinned. Roddick hit three consecutive aces and a nifty volley during one tense sequence.

Acasuso hit more aces than the big-serving Roddick, 20 to 13, and repeatedly came up with backhand winners on big points. Missed opportunities hurt Roddick ¡ª he converted just three of 10 break-point chances.




| | |
| --- | --- |
| | |
| Liverpool's Triumph | |

| | |
| --- | --- |
| | |
| Spurs rally past Suns 111-108 | |

| | |
| --- | --- |
| | |
| Wade Show | |
Today's Top News
Top Sports News

Battles won on drugs, but war rages on




China wants Games torch on Mt.Qomolangma




Shanghai targeting at property bubbles




FM: Talks only way to East China Sea row




Focus on security, airlines instructed




Nestle baby formula pulled off the shelves