England team different but still strong
(Agencies)
Updated: 2005-05-27 09:00
Steven Gerrard and Jamie Carragher are partying in Liverpool. David Beckham and Michael Owen are training in Spain. Rio Ferdinand, Paul Robinson, John Terry and Frank Lampard are all giving their battered bodies a break.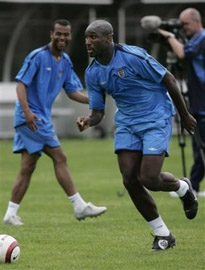 England's Sol Campbell looks at the net before his kick during practice at the Illinois Institute of Technology field in Chicago, Thursday, May 26, 2005. Smiling in the background is teammate Ashley Cole. England will face the USA team at Soldier Field in Chicago Saturday, May 28. [AP]

No, the team that plays the United States in an exhibition Saturday won't be the England that soccer fans are accustomed to seeing. But don't expect a bunch of scrubs, either.

"Although you don't hear the big names that you want to hear, those are outstanding players in one of the toughest leagues in the world," U.S. coach Bruce Arena said. "I would say anyway you cut it, the team that England brings in here on Saturday is one of the better teams in the world."

This is the first game between England and the United States since 1994, when England won 2-0 at Wembley to avenge a loss the year before in Foxboro, Mass. The teams have been trying to schedule a game for several years, and the initial hope was to play it in 2000, the 50th anniversary of the American upset over England in the World Cup.

But between World Cup qualifiers and the European championship, the teams' schedules never quite matched up. Finally, they settled on this date for a whirlwind English tour of the States.

After the U.S. game, England travels to East Rutherford, N.J., where it will play Colombia in another exhibition Tuesday.

"It's important for young players to play against teams with another style, not always a European style," English coach Sven-Goran Eriksson said earlier this month. "I think every second year, England should go out of Europe and play."

And this is the best time to do it. The European club season is almost over, and England doesn't have another World Cup qualifying game until September. That means most of the English players have some free time on their hands.

So why the makeshift roster? Gerrard and Carragher were part of the Liverpool team that won the Champions League title in Turkey on Wednesday, and Real Madrid wanted Beckham and Owen to stick around through the end of the season. They're expected to join England for the Colombia game.

Several other big names opted to stay home and give their bodies a chance to heal up for the final qualifying games.

"At the end of the day, it's an opportunity for the squad that we've got," goalkeeper David James said Thursday. "It's another chance for people to prove themselves."

England did bring Euro 2004 All-Stars Sol Campbell and Ashley Cole, as well as Joe Cole, who started in the last two qualifiers. But much of the rest of the roster is filled with youngsters hoping to play their way onto the World Cup squad.

Six players have yet to make an appearance with the national team. Six others have 10 games or less of international experience.

"The thing about a game like this is sometimes when you're playing different personnel, it's an advantage to them," U.S. goalkeeper Kasey Keller said. "There's really nothing to lose. (If they lose) the press in England would say, `Well, we didn't have our full team.'"

The Americans aren't at full strength, either. Captain Claudio Reyna is skipping the England game and next week's World Cup qualifiers after missing most of the English season with a leg injury. Oguchi Onyewu, Pablo Mastroeni and DaMarcus Beasley are hurt, too, and Eddie Lewis is still in England for a playoff game.

The Americans are also looking ahead to next week's World Cup qualifiers. Don't get them wrong. After winning only two of their seven previous meetings, they'd love to beat England simply for the bragging rights.

But getting into the World Cup matters more.

"Granted, we all want to win on Saturday," Keller said. "But it's nothing more than trying to get in a good frame of mind for the two games that matter."

FREE KICKS:@ Eriksson has appointed Campbell captain for Saturday's game. ... England M Stewart Downing will miss the game because of a knee injury. ... Beasley is running and cutting at full speed, and hopes to be ready for next weekend's qualifiers.




| | |
| --- | --- |
| | |
| Liverpool's Triumph | |

| | |
| --- | --- |
| | |
| Spurs rally past Suns 111-108 | |

| | |
| --- | --- |
| | |
| Wade Show | |
Today's Top News
Top Sports News

Battles won on drugs, but war rages on




China wants Games torch on Mt.Qomolangma




Shanghai targeting at property bubbles




FM: Talks only way to East China Sea row




Focus on security, airlines instructed




Nestle baby formula pulled off the shelves