40,000 Iraqis to form shield in Baghdad
(Agencies)
Updated: 2005-05-27 08:21
Iraq announced plans Thursday to deploy 40,000 police and soldiers in the capital and ring the city with hundreds of checkpoints "like a bracelet" in the largest show of Iraqi force since the fall of Saddam Hussein.
In a reminder of the difficulty Iraqi security forces face in stopping insurgent attacks, violence claimed at least 15 lives Thursday in Baghdad including a car bomb that exploded near a police patrol, killing five people and wounding 17.
A U.S. helicopter was shot down Thursday near Baqouba, 35 miles northeast of Baghdad, the military said.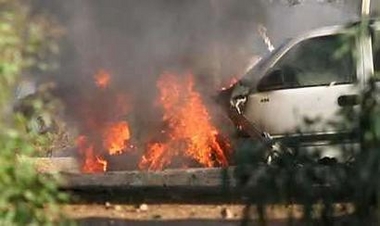 Iraq's government said on Thursday it would deploy 40,000 Iraqi troops in Baghdad in a massive crackdown on insurgents who have killed hundreds of people since the new cabinet was formed this month. An armored sport utility vehicle burns after being hit by a roadside bomb attack in Baghdad May 26, 2005. [Reuters]

Two Task Force Liberty helicopters received small arms fire while conducting operations. One, an OH-58 Kiowa, was damaged but landed safely at a nearby base; the other crashed and the "status of the aircrew is unknown at this time," the military said.

In Baghdad, Prime Minister Ibrahim al-Jaafari told a small group of Western reporters that next week's planned crackdown, dubbed Operation Lightning, was designed "to restore the initiative to the government." Insurgents have killed more than 620 people since his government was announced on April 28.

"We will establish, with God's help, an impenetrable blockade surrounding Baghdad like a bracelet surrounds a wrist," Defense Minister Saadoun al-Duleimi said.

Iraqi authorities did not say how long the crackdown would last, and it was uncertain if the Iraq security services are capable of mounting a sustained operation. Except for a few elite units, most police officers are believed to have joined up for the higher pay the job provides ¡ª at $300 per month their salaries are triple the average wage.

Iraq currently has 89,400 security personnel attached to the Ministry of Interior, according to the U.S. military. This includes police, highway patrol and some commando units, although the figure may include some who have deserted. Another 75,800 forces are in the country's military, most of them in the army.

Al-Jaafari said his government was working hard to recruit, train and equip its police and army, but still needed support from 160,000 foreign troops, including 138,000 from the United States, to deal with the raging insurgency.

American forces will back the Iraqis with logistical aid and air cover during Operation Lightning, according to the U.S. military.

Al-Jaafari said all of Baghdad's 23 entry points would be controlled. Interior Minister Bayan Jabr, who helped announce Operation Lightning, or "Barq" in Arabic, said there would be 675 checkpoints along with mobile checkpoints to try to deter assailants around the city and in areas where attacks are frequent.

The government said Baghdad would be divided into two sectors, Karkh on the west bank of the Tigris river that separates the city, and Risafa on the east. Karkh would be divided into 15 sub-districts and Risafa into seven sub-districts. Police and emergency personnel would operate in Baghdad 24 hours a day.

Al-Duleimi, one of a handful of Sunni Muslims in the Shiite-led government, called on all Iraqis to stand up to an insurgency that has raged unabated for more than a year.

"We have the absolute belief that there is no place for the terrorists, there is no place for those who give shelter to the terrorists, or those who provoke terrorism," he said. "We will stand solidly against anyone who tries to shed a drop of Iraqi blood, against anyone who tries to kill any Iraqi."

But it was unclear if the large concentration of security forces in the capital would cause a surge of violence in the rest of Iraq ¡ª where car bombs, kidnappings and shooting are a day-to-day occurrence.

Northwest of Baghdad, in the city of Haditha, more than 1,000 U.S. troops continued a sweep for insurgents responsible for attacks against coalition troops. They ordered at least one airstrike Thursday against a suspected militant position. At least 11 insurgents and one Marine have been killed since Operation New Market began Wednesday.

Some of the insurgents in Haditha are believed loyal to Iraq's most wanted militant, Abu Musab al-Zarqawi, whose fate has been the subject of intense discussions this week from Baghdad to the Internet to Washington.

Confusion surrounded the fate of al-Zarqawi on Thursday amid reports he had been wounded.

One U.S. defense official, who spoke on condition of anonymity, said that the military's most credible sources lean toward the idea that al-Zarqawi is injured or wounded, not dead.

Jabr, the interior minister, said his office believes al-Zarqawi has been wounded. An Internet statement also claimed that al-Zarqawi's terror group, al-Qaida in Iraq, had appointed a deputy to fill in for him.

Al-Jaafari said his government did not have "accurate information" that al-Zarqawi was indeed wounded.

"But let's not narrow it down to single person. It's about a phenomenon and its cause," al-Jaafari said of the insurgency.

That argument was echoed in Washington by U.S. Army Brig. Gen. Carter Ham, the former commander of Task Force Olympia, who directed thousands of troops during 13 months of combat operations in northern Iraq.

"He is the leader of al-Qaida in Iraq. And clearly, his capture or removal from that position will have a significant effect on al-Qaida in Iraq," Ham said. "My only caution is we ought not expect that when that happens, that the organization will crumble and will cease to exist. The organization has proven to be somewhat resilient."

Insurgents continued to target Iraqi police and government officials in an attempt to undermine the new government. Gunmen shot dead Iraqi army Capt. Awas Youssif Hassan in the Khalis area northeast of Baghdad, said army Col. Abdulla al-Shimary.

Separately, gunmen in a speeding car fired automatic weapons at a group of people driving to work in Baghdad's southern Risala neighborhood, killing four Iraqis, including a university professor and a translator working for the U.S. military, said police Lt. Hussam Noori.

A top Industry Ministry official, Samir Nima Ghaidan, was shot dead by gunmen while leaving his office in northern Baghdad's Mustansiriyah Square to return home, said army Capt. Hussein Hakim. Ghaidan ran the ministry's transport department.

In one of the insurgency's most bizarre attacks to date, someone tied a crude homemade bomb to a dog, which exploded near an Iraqi army patrol south of Kirkuk, 180 miles north of Baghdad, police said. None of the soldiers was harmed in the blast.




Today's Top News
Top World News

Battles won on drugs, but war rages on




China wants Games torch on Mt.Qomolangma




FM: Talks only way to East China Sea row




Focus on security, airlines instructed




Nestle baby formula pulled off the shelves




China, India troops to train jointly as ties warm