FM: Talks only way to East China Sea row
By Sun Shangwu (China Daily)
Updated: 2005-05-26 22:43
China and Japan should resort to dialogue to solve their problem on the disputed area of the East China Sea, Foreign Ministry spokesman Kong Quan said yesterday in Beijing.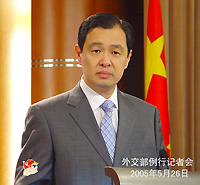 FM spokesman Kong Quan listens to the questions at yesterday's press conference. [fmprc.gov.cn]
The two countries are scheduled to hold a new round of talks on the disputed area in the near future, Kong said.
The talks have become the centre of attention as Sino-Japanese relations sour because of the Japanese leader's remarks on the visit to Yasukuni Shrine.
Kong said at the ministry's regular news briefing that China does not want current differences to hamper the upcoming talks.
He also criticized Japan for giving oil and gas exploration rights in the disputed area to Japanese companies.
"We think Japan's practices constitute a provocation to China's rights and norms of international relations," Kong said. "We have lodged a protest to Japan and reserve the right of taking further action."
Commenting on the visit of Uzbekistani President Islam Karimov to China, Kong said that the two countries are friendly neighbours and all countries in the Central Asian region are facing challenges of three forces of terrorism, separatism and extremism.
He urged all states in the region to strengthen co-operation in fighting terrorism.
Both China and Uzbekistan are members of the Shanghai Co-operation Organization, which also comprises Russia, Kazakhstan, Kyrgyzstan and Tajikistan.
Kong said yesterday that Foreign Minister Li Zhaoxing would attend the organization's foreign ministers' meeting in Kazakhstan on June 4.
In addition, Li will also attend the informal meeting of foreign ministers from China, Russia and India, scheduled for June 2 in Vladivostok, Russia, according to Kong.
Also, Peruvian President Alejandro Toledo will pay a state visit to China between June 2-6, Kong said.
Premier Wen Jiabao will discuss with other leaders promoting regional co-operation, Kong said.
He added that Liang Guanglie, chief of the general staff of the Chinese People's Liberation Army, started his six-day visit to India on Monday.
The exchanges between high-level officers of the two militaries will be good for increasing mutual trust and understanding, Kong said.
He also talked about the "universal application" principle in the new international health regulations.
He said there is no legal basis for Taiwan's entry into the World Health Organization.
The 58th annual World Health Assembly was held in Geneva on May 23 and established a new set of regulations on national and international responses to disease outbreaks.
(China Daily 05/27/2005 page2)
Today's Top News
Top China News

Battles won on drugs, but war rages on




China wants Games torch on Mt.Qomolangma




FM: Talks only way to East China Sea row




Partnership agreement singed with Croatia




Focus on security, airlines instructed




China, India troops to train jointly as ties warm