China, India troops to train jointly as ties warm
(Agencies)
Updated: 2005-05-26 20:08
NEW DELHI - The armies of India and China plan to hold unprecedented joint counter-terrorism and peacekeeping training programmes, the Indian army chief said on Thursday.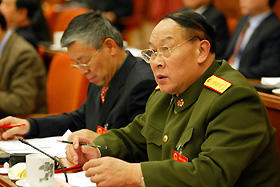 Chief of general staff of PLA Liang Guanglie[R] listens to a report at a NPC meeting in Beijing March 10, 2005. [newsphoto]

General Joginder Jaswant Singh said the plans had been discussed with visiting Chinese chief of general staff, General Liang Guanglie, who began a six-day tour on Monday.

Military ties between the two Asian giants have vastly improved and their soldiers have gone on joint mountaineering expeditions, played volleyball matches, exchanged gifts and shared meals on the frontier, Singh said.

"The momentum given by the leaders of our two countries is being enhanced further by the two militaries," he told reporters, referring to the upswing in diplomatic ties between the world's two most populous countries.

"On the roadmap of military-to-military cooperation in the future (are) exercises where both countries could carry out together to counter terrorism or on U.N. missions," he said on the sidelines of a defence technology conference in New Delhi.

Indian army officers visited China to witness military exercises last year and Chinese officers were invited to see manoeuvres by the Indian army and air force this year, he said.

During Liang's talks in Delhi, the two sides had agreed that their navies would hold joint exercises off the Indian coast, the second such drill after the two fleets conducted manoeuvres off the Shanghai coast in 2003.

Ties between India and China were frosty for decades after the bitter war but since the late 1990s the rising Asian economic powers have gone about transforming it.

Chinese Premier Wen Jiabao visited India last month and the two sides agreed on a roadmap to settle their longstanding border row.

Although senior envoys of the two sides have been holding talks to end the row, analysts say resolving the row over the 3,500-km (2,200-mile) Himalayan frontier has a long way to go.

Troops from the two countries still occasionally have stand-offs when they stray across the frontier.

But General Singh dismissed such incidents as "nothing abnormal" and said they were a result of the "difference in perception" between the two sides of where the frontier lay.

"The (military) confidence-building measures will result in reducing tension and will also result in (reducing the) number of people deployed along the borders," he said.




Today's Top News
Top China News

China hails bird flu vaccine amid pandemic warning




China, Uzbekistan sign $600m oil agreement




Tsang resigns to run in Hong Kong by-election




EU sets deadline on resolving textile dispute




Shanghai targeting at property bubbles




Chinese shoppers outspend Japanese abroad