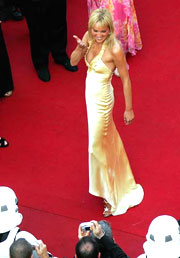 Sharon Stone, posing for the paparazzi again and again in a golden gown
There was Darth Vader, breathing heavily as he marched down the red carpet. Then came Sharon Stone, posing for the paparazzi again and again in a golden gown.
This year's Cannes Film Festival, which ended Sunday, brought plenty of glitz, glamor and Hollywood moments. But the stars of the final soiree were two Belgian brothers who make small, socially conscious films about people struggling just to get by .
The Dardenne brothers' "The Child" won the top award Saturday at the festival, which celebrates stars and small art house filmmakers with equal gusto . Every year, Cannes carefully mixes glitz and grit, critic-pleasers and crowd-teasers, to come up with something for everyone.
For sheer fan hysteria, nothing this year topped the Cannes showing of "Star Wars: Episode III - Revenge of the Sith."
Outside the festival palace May 15, Darth Vader's breathing blasted from giant speakers. Stone cozied up to storm troopers lining the carpet as paparazzi in tuxedos snapped photos.
"Star Wars" didn't compete at Cannes. But it broke box office history by selling more than $50 million in tickets in a single day in the United States alone. Most moviemakers at Cannes would be delighted to make that sum worldwide in their entire theatrical run.
"The Child," the realistic, wrenching story of a petty crook suddenly faced with fatherhood, isn't one for the multiplex. Even in Europe, it's not likely to draw huge crowds. Some 70 percent of ticket sales here are for American movies.
But a win at Cannes can nonetheless bring bigger audiences and help independent filmmakers maintain their artistic freedom.
"We haven't come back down to earth yet," a beaming Jean-Pierre Dardenne said after winning the award with his brother, Luc.
As usual, the ceremony brought surprises - although nothing as dramatic as Michael Moore's win last year with "Fahrenheit 9/11," his assault on the White House.
Critics appreciated "The Child," but it didn't look like a front-runner going into the awards. It beat out a few North American movies with stronger commercial prospects.
Jim Jarmusch's "Broken Flowers," starring Bill Murray as a middle-aged Lothario, took second place. Another critical favorite, David Cronenberg's "A History of Violence," with Viggo Mortensen as a small-town dad protecting his family from mobsters, was overlooked.

(Agencies)
一边是黑武士达斯·维达伴着粗重的呼吸声走下红地毯,一边是莎朗·斯通身着一袭金色露背长裙闪亮登场,在摄影记者们的闪光灯前摆出各种姿势。
今年的戛纳电影节于上周日正式落下帷幕。尽管电影节充满了好莱坞炫彩风格的狂欢节目,但最后的颁奖典礼上最亮的星光却属于比利时的达内兄弟,他们执导的影片把目光投向普通人的平凡生活和社会问题。
在上周六举行的颁奖典礼上,达内兄弟执导的影片《孩子》最终摘得金棕榈大奖,这使众多明星与非主流电影制作人获得了同样的热情礼遇。每年,戛纳电影节总是谨慎地把奢华与平凡,精英艺术和大众口味融合在一起,希望给人们带来全新的感觉。
对那些狂热的影迷来说,本次戛纳电影节表现最抢眼的影片无疑是《星战前传3:西斯的复仇》。
5月15日,黑武士达斯·维达在电影宫门前现场助阵,巨大的扬声器里传出他沉重的呼吸声。莎朗·斯通则向列队站在红地毯两侧的克隆人军队大献殷勤,引得现场身着正式礼服的摄影师一阵狂拍。
虽然《星战前传3》并没有在戛纳参加角逐,但它却创下了惊人的票房记录,单在美国一天上映的收入就超过5000万美元。如果自己影片的票房可以达到这个数字,戛纳的许多电影制作人肯定会为之欣喜若狂。
《孩子》这部现实主义题材影片讲的是一个小偷突然要做父亲的曲折情感故事,作品本身并不是一部多元化影片,即使在欧洲也不太可能博得大众的青睐。大约有70%左右的票房收入都来自美国影片。
尽管如此,在戛纳蟾宫折桂却能大大增加影片的人气,并帮助独立制片人继续他们的自由创作之路。
与哥哥吕克·达内一起获奖后,让-皮埃尔·达内喜气洋洋地表示:"我们还没有回到现实中来。"
虽然不象去年迈克尔·摩尔的攻击白宫的记录片《华氏911》获奖那么具有戏剧性,今年戛纳也和以往一样,给大家带来了惊奇。
电影评论家们很赏识《孩子》这部作品,但它看起来并不象那种可以摘得桂冠的影片。它击败了几部商业前景更可观的北美入围影片。
吉姆·贾木许的《破碎之花》紧随其后,著名影星比尔·默里在片中扮演一位中年好色之徒。另外一部争议性影片,加拿大导演大卫·柯南伯格的《暴力史》则与大奖无缘,维戈·莫特森在片中扮演一位保护家人免遭匪徒迫害的父亲。

(中国日报网站译)