FBI memo: Guantanamo guards flushing Koran
(Agencies)
Updated: 2005-05-26 08:40
WASHINGTON - An FBI agent wrote in a 2002 document made public on Wednesday that a detainee held at the U.S. naval base at Guantanamo Bay, Cuba, had accused American jailers there of flushing the Koran down a toilet.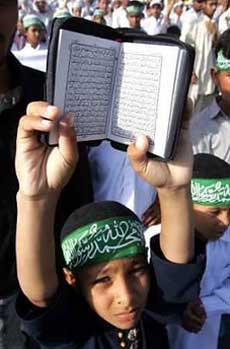 A Pakistani Islamic religious student holds Koran during a rally in Karachi May 25, 2005. Hundreds of religious students from various Islamic schools staged a protest in Karachi on Wednesday in reaction to a Newsweek magazine report, which was later retracted, of U.S. interrogators desecrating the Koran at the Guantanamo Bay prison. [Reuters]

The Pentagon said the allegation was not credible.

The declassified document's release came the week after the Bush administration denounced as wrong a May 9 Newsweek article that stated U.S. interrogators at Guantanamo had flushed a Koran down a toilet to try to make detainees talk. The magazine retracted the article, which had triggered protests in Afghanistan in which 16 people died.

The newly released document, dated Aug. 1, 2002, contained a summary of statements made days earlier by a detainee, whose name was redacted, in two interviews with an FBI special agent, whose name also was withheld, at the Guantanamo prison for foreign terrorism suspects.

The American Civil Liberties Union released the memo and other FBI documents it obtained from the government under court order through the Freedom of Information Act.

"Personally, he has nothing against the United States. The guards in the detention facility do not treat him well. Their behavior is bad. About five months ago, the guards beat the detainees. They flushed a Koran in the toilet," the FBI agent wrote.

"It's not credible," chief Pentagon spokesman Lawrence Di Rita said of the allegation regarding a Koran in a toilet.

Di Rita said the U.S. military questioned the detainee on May 14, and that the man was "very cooperative and answered the questions but did not corroborate the allegation recorded on Aug. 1, 2002." Di Rita said he did not know whether the man actually recanted the allegation.

"These kind of, sort of, fantastic charges about our guys doing something willfully heinous to a Koran for the purposes of rattling detainees are not credible on their face," Di Rita told reporters.

HOLY BOOK

The documents indicated that detainees were making allegations that they had been abused and that the Muslim holy book had been mishandled as early as April 2002, about three months after the first detainees arrived at Guantanamo.

In other documents, FBI agents stated that Guantanamo detainees also accused U.S. personnel of kicking the Koran and throwing it to the floor, and described beatings by guards. But one document cited a detainee who accused a guard of dropping a Koran, prompting an "uprising" by prisoners, when it was the prisoner himself who dropped it.

"Unfortunately, one thing we've learned over the last couple of years is that detainee statements about their treatment at Guantanamo and other detention centers sometimes have turned out to be more credible than U.S. government statements," said ACLU lawyer Jameel Jaffer.

Former detainees and a lawyer for current prisoners previously have stated that U.S. personnel at Guantanamo had placed the Koran in a toilet, but the Pentagon has said it also does not view those allegations as credible.

In document written in April 2003, an FBI agent related a detainee's account of an incident involving a female U.S. interrogator.

"While the guards held him, she removed her blouse, embraced the detainee from behind and put her hand on his genitals. The interrogator was on her menstrual period and she wiped blood from her body on his face and head," the memo stated.

A similar incident was described in a recent book written by a former Guantanamo interrogator.

White House spokesman Scott McClellan last week said Newsweek "got the facts wrong" and Pentagon spokesman Bryan Whitman called the article "demonstrably false." Di Rita said last week the Pentagon had received "no credible and specific allegations" that U.S. personnel had put a Koran in the toilet.




Today's Top News
Top World News

China, Uzbekistan sign $600m oil agreement




Tsang resigns to run in Hong Kong by-election




EU set deadline on resolving textile dispute




FBI memo: Guantanamo guards flushing Koran




Boy hiding in gear compartment killed




Malaysians could face death for trafficking