US halts recovery effort in North Korea
(Agencies)
Updated: 2005-05-26 07:35
The US Pentagon on Wednesday abruptly suspended U.S. efforts to recover the remains of American soldiers from North Korea. The country was creating an environment that could have jeopardized the safety of U.S. workers, the Defense Department said.
No specifics were provided. The announcement came amid rising tensions with North Korea over its nuclear weapons and missile programs and concern that it might be preparing a live nuclear test.
The Bush administration also has been critical of Kim Jong Il's government for refusing to resume talks with the United States, Russia, China, Japan and South Korea over the future of its nuclear ambitions.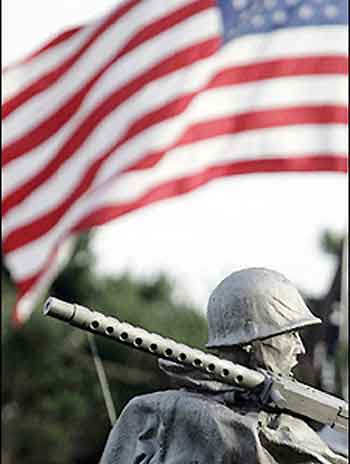 The Korean War Memorial in Washington is seen here in this file photo. [AFP/File]

A senior Pentagon spokesman, Lawrence Di Rita, said Defense Secretary Donald H. Rumsfeld had recommended halting efforts to recover the remains. Di Rita mentioned concerns about restrictions by North Korea on the use of communications devices by U.S. personnel while they are on North Korean territory. They are not allowed to call outside the country.

Other defense officials, speaking on condition of anonymity because they were not authorized to discuss details, said Rumsfeld's decision was less about such specifics but more about a broader unease among senior administration officials with the overall direction of North Korean policies.

The remains recovery program was suspended once before, from October 2002 to June 2003. That came after the North Koreans disclosed to a State Department envoy that they had secretly been running an active nuclear weapons program.

The recovery missions began in 1996 and are the only form of U.S.-North Korean military cooperation.

Veterans groups have lobbied to keep the recovery operations going.

So far the work has returned more than 220 remains of U.S. soldiers who died in the Korean War, with the U.S. government paying millions of dollars in cash to the North Korean government for logistical support. Thousands more soldiers are still missing, and a large number of the remains are believed recoverable.

The suspension came just one day after the Pentagon announced that a number of remains of U.S. soldiers had been recovered during the first of what had been scheduled to be a series of missions this year at two former battlefields in North Korea. That announcement gave no indication there was a problem with safety.

"The United States is prepared to continue Joint POW/MIA Accounting Command humanitarian missions to locate, recover and repatriate the remains of Americans still missing in North Korea after they have created an appropriate environment," said a statement issued by U.S. Pacific Command, which overseas the missions.

A spokesman, Lt. Cmdr. Jason Salata, said the decision to suspend operations was made Tuesday by the Defense Department.

"The overall environment that the North Koreans have created is not conducive to the effective operation of the missions, so there's a risk there and it's a force protection risk that we view as not ensuring the safest conditions for our recovery teams," Salata said.

The communications restriction was agreed upon by both sides when they negotiated the terms of the current series of recovery missions. Salata could not say why the restriction is now deemed unacceptable.

More than 8,000 U.S. troops are still missing from the Korean War, which ended in July 1953.




Today's Top News
Top World News

Nation and Uzbekistan consolidates ties




Tsang resigns to run in HongKong by-election




EU set deadline on resolving textile dispute




US leads global attack on human rights




Lee: Futile to resist China's growing clout




Boy hiding in gear compartment killed