China, Uzbekistan sign $600m oil agreement
By Qin Jize (China Daily)
Updated: 2005-05-26 00:24
The leaders of China and Uzbekistan signed an agreement to establish a "friendly co-operative partnership" yesterday, signalling a new determination on both sides to further consolidate the traditional friendship.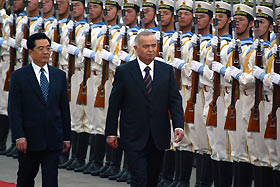 President Hu Jintao and visiting Uzbekistani President Islam Karimov review the honor of guard in Beijing May 25, 2005. [newsphoto]
President Hu Jintao and his Uzbekistani counterpart, Islam Karimov, met in Beijing yesterday and witnessed the signing of 14 more agreements that are expected to open ways for more co-operation in trade, customs, high technology and energy.
Among the agreements signed was the establishment of a joint venture by China National Petroleum Corp and its Uzbekistani counterpart.
"It worth a total investment of US$600 million and is seen as an important step for energy co-operation between the two countries," People's Daily quoted Karimov as saying yesterday.
Hu said the friendly co-operative partnership has established a strong political and legal base for the long-term development of Sino-Uzbekistani relations, calling for more bilateral co-operation in the fields of gas, mine, telecommunications and transport.
He also promised that China would back Uzbekistan to join the World Trade Organization, encouraging more trade exchanges and investments between the enterprises in both countries.
Talking about the regional situation, Hu said China is willing to try, with other countries in the region and within the framework of Shanghai Co-operation Organization, to fight the three forces of terrorists, separatists and extremists to safeguard peace and stability in the region.
The Shanghai Co-operation Organization - whose members also include Russia, Kazakhstan, Tajikistan and Kyrgyzstan - is an international organization founded in June 2001.
Karimov's fourth visit to China after assuming the presidency comes after thousands of armed protesters plunged the city of Andijan into chaos last Friday, releasing prisoners and clashing with security forces.
On Tuesday, one day before the visit, Chinese Foreign Ministry Spokesman Kong Quan said China firmly supports Uzbekistan's moves to crack down on the three forces and to maintain domestic and regional stability.
Describing China as a "reliable friend and friendly neighbour," Karimov said the establishment of a friendly co-operative partnership marks bilateral relations' moving towards a new high.
Karimov is optimistic about the bilateral trade co-operation, saying that there is still much room for further co-operation in many fields and that he would like to see more cultural and educational exchanges.
The president said Uzbekistan shares the same stance as China on maintaining regional peace and safety.
(China Daily 05/26/2005 page1)
Today's Top News
Top China News

China, Uzbekistan sign $600m oil agreement




Tsang resigns to run in Hong Kong by-election




EU set deadline on resolving textile dispute




FBI memo: Guantanamo guards flushing Koran




Boy hiding in gear compartment killed




Malaysians could face death for trafficking