Boy hiding in gear compartment killed
By Cao Desheng (China Daily)
Updated: 2005-05-25 22:46
A boy was killed yesterday at Dunhuang Airport when he fell off the wheel well of a China Eastern Airlines flight to Lanzhou.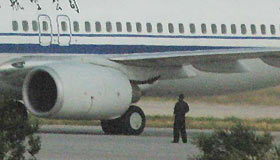 Ground service staff check the gear compartment of a leaving jetliner as Lanzhou local airport administration require after the accident on Wednesday. [newsphoto]
The boy, estimated to be about 10 years old, fell onto the tarmac shortly after the plane took off at 7:50 am. Both Dunhuang and Lanzhou are in Northwest China's Gansu Province.
The Airbus A320 with the tail number of MU2417 landed safely at the Lanzhou airport at 9:14 am.
"The boy died on the scene, and his body was later sent to a local hospital," said a Dunhuang Airport executive who gave only his surname, Xing.
An official from China Eastern's Gansu Branch said his company should be exempt from responsibility for the boy's death because Dunhuang Airport workers had conducted a maintenance and security check before takeoff.
However, Xing said blame will be assigned based on the investigation results. Officials from the Civil Aviation Administration of China's (CAAC) Northwestern Bureau were scheduled to fly to Dunhuang last night to investigate.
"Since nothing can be found to prove the identity of the dead boy and how he could have sneaked into the landing gear compartment without being discovered, it's still too early to put blame on any party," Xing said.
The CAAC ordered the inquiry, blaming serious loopholes in airport security, an administration press official said.
"Serious punishment will be given to those who are responsible for the tragedy," the official said, on condition of anonymity.
Airport safety must be intensified amidst the rapid growth of China's airline industry, Qin Zhanggao, vice-director of the CAAC's Department of Airports, said at a recent airport conference.
Recent stowaways
* On November 11, 2004, two boys stowed away in the landing compartment of a Sichuan Airlines' passenger jet from Kunming to Chongqing. Liang Kailong, 14, survived the flight, but Su Qing, 13, died after falling from the plane shortly after takeoff. Kunming Airport admitted it was to blame for the accident for its negligent security.
* On January 23, 2003, two men with unidentified citizenships sneaked into the wheel well of a Boeing 777 bound for Shanghai from Paris. They fell and died as the plane was about to land. Their stowaway trips were reported to be just to see China's sights.
* In 1995, a migrant worker who hid in the landing gear compartment of a Boeing 747 fell to the ground as the plane was landing at Shanghai Pudong International Airport. His body had frozen when it was discovered. His stowing away was reported to be an effort to avoid buying a ticket.
Today's Top News
Top China News

China, Uzbekistan sign $600m oil agreement




Tsang resigns to run in Hong Kong by-election




EU set deadline on resolving textile dispute




FBI memo: Guantanamo guards flushing Koran




Boy hiding in gear compartment killed




Malaysians could face death for trafficking