Europe expected to get tough with Iran
(Agencies)
Updated: 2005-05-25 13:37
After long embracing a diplomatic approach to contain Iran's nuclear ambitions, European governments appear to be moving toward turning their carrot into a stick.
But as foreign ministers from France, Britain and Germany meet Iranian officials in Geneva for crucial negotiations Wednesday, it's unclear if a tougher strategy of economic sanctions will work. The only certainty for Western powers in such a scenario would be a big negative: still higher gas prices at the pump.
After months of fruitless talks, the European Union has begun warning that it is moving toward the U.S. position that Tehran should be hauled before the U.N. Security Council for suspect nuclear activities in violation of the Nuclear Nonproliferation Treaty.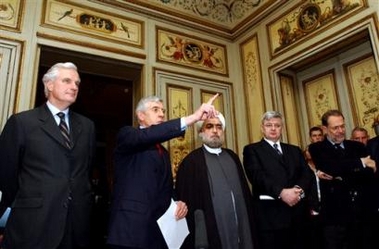 From left, French Foreign Minister Michel Barnier, Britain's Foreign Secretary Jack Straw, Iran's top nuclear negotiator Hassan Rowhani, German Foreign Minister Joschka Fischer and EU foreign policy chief Javier Solana attend a news conference at the British Residence in Brussels, in this Dec. 13, 2004 file photo. [AP/file]

To avert a showdown that could result in U.N. sanctions, Tehran agreed to meet the three European ministers and the EU foreign policy chief, Javier Solana, for talks in Geneva on Wednesday.

The EU push followed Iran's announcement last week that it was considering restarting its uranium-enrichment program, which Tehran insists is aimed only at generating electricity. The EU and the United States fear the program is being used to develop nuclear weapons.

However, any strong sanctions against Tehran would likely cause oil prices, already around $50 a barrel, to rise.

"The most severe sanctions that would affect Iran would be sanctions against their oil industry, that is, an international boycott on Iranian oil products," said Gary Sick, a senior research scholar at Columbia University. "That would mean basically taking 3 million barrels a day off the market, which would probably cause the price to spike."

Sick said it is far from certain that the Security Council would impose sanctions, because veto-wielding China and Russia have expressed opposition.

The United States has been demanding since last year that Iran face sanctions for its nuclear program — but up to now the EU has used enticements instead. If Iran agrees to keep its program within bounds, the EU says it can expect economic and technical cooperation as well as support for joining the World Trade Organization.

The 25-member EU has offered a free trade pact and more economic aid, and European officials have said they would improve the offer. It was the talks with the Europeans that persuaded Iran to suspend its uranium enrichment program in November.

Iran has long had strong trade links with Europe, and there have been calls on the Europeans to use this as leverage.

But Iran has warned that if the talks fail, it will cost the Europeans more than it would Iran.

"The case will turn into a crisis they cannot manage any longer and the Islamic Republic will act unilaterally," said Iranian Foreign Ministry spokesman Hamid Reza Asefi Asefi. He did not elaborate.

British Foreign Secretary Jack Straw said he hoped the talks would succeed, but conceded, "the Iranians are tough to negotiate with."

Joining Straw will be French Foreign Minister Michel Barnier and German Foreign Minister Joschka Fischer. Heading the Iranian delegation will be the country's top nuclear negotiator, Hasan Rowhani.

Reflecting a growing pessimism on the issue, a leading London think tank said Tuesday that the diplomatic talks appear doomed to failure.

So far President Bush has gone along with the European efforts for dialogue with Tehran, but pressure has been building in Congress for independent U.S. action.

A bill in the House of Representatives would tighten long-standing U.S. sanctions against Iran, bar subsidiaries of U.S. companies from doing business in Iran and cut foreign aid to countries that have businesses investing in Iran. A more limited measure is pending in the Senate.