Henan natives battle against hometown notoriety
(Shanghai Star)
Updated: 2005-05-25 10:34
Two Henan residents have filed a lawsuit against the Shenzhen Public Security Bureau in Guangdong Province on April 15 after posters were displayed in public areas suggesting Henan migrants were involved in crime.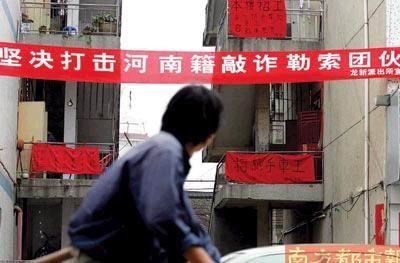 An eye-striking banner which reads "Strike Henan racketeering gangs" was hung high above the street in Shenzhen. The police have apologized to local residents from Henan Province for their inappropriate deed and removed the insulting banner. [baidu]


The posters said anyone who reported "Henan racketeering gangs," to the local police would be rewarded, even though police officers had no particular evidence crimes were being committed by Henan people.

Li Dongzhao and Ren Chengyu, from Henan Province, were offended by the banner and said the police action violated the Chinese Constitution's principle of equity and infringed the rights of Henan people, damaged their reputation and caused them mental distress. They asked the police to apologize for their action in national media.

As the first discrimination case of its kind in China, it has triggered a strong response and great controversy among Henan people, haunted by nationwide discrimination since the 1990s.

Lang Yuting, a Shenzhen government official from Henan said the poster was an insult to her as a hard-working person who had never violated any laws.

"It has been a bitter experience and I can recall other such incidents of insults and discrimination against my people from Henan," Liang told the Shanghai Star.

"The dirty jokes and exaggerated reports on the bad behaviour of Henan people make me feel humiliated and depressed. Henan people deserve respect and should be treated equally."

Liang's experience was common for many other Henan people both in Shenzhen and other cities outside Henan.

Some students even wanted to change their birth place on their ID records to shun the prejudices of their classmates in Beijing, according to one media report.

Police apologies

It is reported that Shenzhen police apologized to the two residents and other Henan People in a local newspaper, in which Liu Kuanzhi, director of the police sub-station, was quoted as saying: "The banner targeting Henan-native gangs has hurt people from Henan Province and we sincerely apologize to them."

Local police said they had gone door-to-door in the district involved, where many people from Henan live, to apologize. All the posters have been removed.

Li and Ren have rejected the apology as insufficient.

Shenzhen local police authorities explained that the purpose of the posters was to remind local residents to take care of their property and to deter criminals.

They say their accusations against Henan-born criminals were largely based on the fact that there is a large proportion of Henan people living in the area.

But the police admitted that they had no evidence to show that criminals were mostly related to Henan natives, according to the Southern Metropolis News, a leading local daily newspaper.

The offended

Lu Zhihua, director of the Labour Export Bureau of Henan Province also criticized the police action, saying: "They discriminated against Henan People. We provide two million migrant workers to Shenzhen and Guangzhou of Guangdong Province. They make great contributions to both cities."

Lu was echoed by Professor Peng Bo from the Law School of Shenzhen University.

"The police action shows discrimination based on region and place of birth. Criminals should be judged not by where they are from, but by what they do."

Bad reputation

Henan, a relatively underdeveloped area in central China, is the country's most populous province and has exported more than eight million people to work as migrant workers elsewhere in the country.

Since 1990s, reports about the bad behaviour of Henan people have frequently reached the headlines. They are associated with cheating, robbery, producing fake products and trading in infected blood that spreads HIV/AIDS.

"The media have played an important part in the nationwide trend to demonize Henan people," said Li Xiguang, director of the School of Journalism and Communications at Tsinghua University in a comment to Chinanews magazine.

"Since the 1990s, the media seem to have had a great interest in China's most populous area and its people. But Henan people are portrayed as nothing but robbers, cheats and illegal merchants in these reports," said Peng Bo.

He said the phenomenon could be traced to negative media coverage of events such as the tainted blood incident that occurred in Henan and frequent crimes in the province.

"People from other areas commit crimes, but Henan criminals receive far more attention."

A plausible reason for this may be the wide distribution of Henan people all over the country. One out of every 10 Chinese is from Henan.

"The bias against Henan people and the prejudiced media reports are encouraging discrimination against Henan people," said Peng.

He said some Henan people had met with discrimination in job hunting.

"It may be due to the isolation of Henan as an area which used to be at the heart of the country along with a nationwide attitude of hostility toward Henan people."

Chen Yanni, a sales employee from a Beijing beer company, said her company had told them not to recruit Henan people as sales staff.

"They said the bad reputation of Henan people would mean our clients had less trust in our company," said Chen.

"The (Shenzhen) case has great significance," said Zhao Xinbing, co-author of "Who Have Henan People Offended?", a recent best seller. "It has stimulated people to rethink their fixed ideas about Henan people and should help to eliminate discrimination."

Rebuild the reputation

To alleviate the negative media coverage, Henan local government has risen to defend the province's image and announced they will rebuild the reputation of Henan people.

A logo imploring readers to "rebuild the image of Henan people" can be found both in urban and rural areas throughout the province.

Former Deputy Minister of the Publicity Department of the Central Committee of the Communist Party of China and Minister of State Administration of Radio, Film and Television, Xu Guangchun, was appointed as Secretary of the Henan Committee of the Communist Party of China, the top official of Henan in 2004. The top leader said the government was making efforts to give the public a more accurate image of Henan people.

"Most Henan people are honest, hard-working and friendly," said Zhao. "One out of every 10 Chinese is from Henan. Those who despise Henan people are despising themselves."





| | |
| --- | --- |
| | |
| No apologies for sexy Paris Hilton ad. | |

| | |
| --- | --- |
| | |
| Rubber girls | |

| | |
| --- | --- |
| | |
| Hollywood hard for Asians, says Zhang Ziyi | |
Today's Top News
Top Life News

China-Japan ties soured by shrine visits




Lee: Futile to resist China's growing clout




Pentagon report: China an emerging rival




Tax drop helps farmers with rising income




Chinese bank wins approval for $2b IPO




South China factories short of workers