South China factories short of workers
By Lindsay Beck (Reuters)
Updated: 2005-05-25 09:05
Twenty years ago, factory owners couldn't move into South China fast enough. But now Chuck Chiang is moving on.
China's southern coastal provinces used to be famous for their supply of cheap, migrant labor, turning the region into the world's manufacturing powerhouse.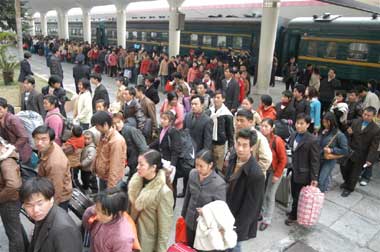 Migrant workers flock to Shantou, Guangdong Province to seek jobs in this January 24, 2004 file photo. Today, many factories in the province are having difficulties in their employment as many migrant workers are no longer willing to work there due to relatively low pay. [newsphoto]

But just as the boom originally moved from Hong Kong to southern Guangdong, now it is moving further inland and workers are wising up, leaving the province in a strange position for the world's most populous country -- it is more than 2 million laborers short.

"Before, you just built and someone would come and open a factory," said Chiang at his office in the dusty city of Dongguan, the hub of his manufacturing business.

Chiang, a Taiwan businessman, has been working out of Guangdong for 15 years, where his factory manufactures everything from picture frames and key chains destined for American tourist sites to miniatures of Jesus on the cross.

But the factors that lured him here are changing and so is Chiang's business strategy.

"I'm setting up another factory in Hunan," he said, referring to the central province about 10 hours' drive inland.

"The electricity and utilities will be much cheaper there," said Chiang, who plans to employ 1,000 workers there while minimizing his operations in Guangdong.

With a rural population of about 800 million, there are still plenty of people willing to slog it out in China's factories -- roughly one in eight of them leave the land to work in cities.

But the equations that saw them flock to Guangdong are changing.

CHOICE AND CHANGE

Exposes of poor labor conditions and low salaries have filtered through the rumor mill and back to workers' hometowns, typically in interior provinces of Hunan and Sichuan.

As those areas begin to develop, workers are realizing they can find similar work closer to home.

At the same time, factory owners are wising up to the fact that land and operating costs are cheaper inland and provincial governments are dangling incentives to lure them.

And as huge electronics factories sprout along the east coast near Shanghai -- often paying higher wages -- workers are realizing they have choices.

"Now factories are opening in other places in China. Wages are better here than in the interior. But in Zhejiang and Fujian you can make more," said 22-year-old Yang Meimei who works in a plant making furniture materials.

Yang arrived in Dongguan a year ago from her home province of Henan, where her family farms wheat, for her second stint as a laborer.

The first time she spent four years in a factory in nearby Shenzhen, on the Hong Kong border, but she went home to get married and start a family.

This time, she left behind a 1-year-old son.

"I miss him. But it's better that I make money while he's young for his schooling," she said, echoing the equations of poverty and opportunity common to many migrant workers.

BURST BUBBLE

Analysts say the days of factory owners being able to keep wages stagnant for a decade, as they were in Guangdong, are over as the bubble bursts on the province's labor market and workers realize there are other places they can go.

"It's not that there is a shortage of labor; it's that it is being more equally distributed around so this one place that occupied an anomalous position has lost that," said Arthur Kroeber, managing editor of The China Economic Quarterly.

Chinese media have said average monthly wages for migrant workers in Guangdong rose just 68 yuan ($8.22) in the past 12 years, with most factories paying less than 1,000 yuan ($120).

Pacing through a showroom filled with picture frames and key chains reading "Loon County Safari" and "Alaska Railroad," Chiang is among those waking up both to changing economics and to the fact his workers want more.

"Once I lost my temper on the factory floor and a worker said, 'I'm going to report you to the tax office, to the press'. My heart was beating so fast," he said.

He cites mobile phones and the Internet for more savvy workers, and says China's one-child policy -- which makes parents less willing to see their only child trekking across the country -- and the boom in the interior, are keeping more workers closer to home.

"Lots of friends don't want to come here," said 20-year-old factory worker Xiong Dong of Hubei province.

His co-workers from the electronics factory across the way nod in agreement as they lunch near the squat, yellow tile complex where they say they make about 700-800 yuan a month.

Behind the factory compound, their dormitories are marked by poles of clothes hanging out of the windows to dry, and beyond a steady stream of transport trucks rumble on, past the factories that line Dongguan's wide streets.

And while China's poor, migrant laborers are a long way from having serious bargaining power, the shifting market is also changing the way some factory owners view their workers.

"They are not as stupid as before," said Chiang. "They fight for their rights."





Today's Top News
Top China News

China-Japan ties soured by shrine visits




US tightens quota noose on textile products




Pentagon report: China an emerging rival




Tax drop helps farmers with rising income




Chinese bank wins approval for $2b IPO




South China factories short of workers