US House passes stem cell bill, Bush may veto
(Agencies)
Updated: 2005-05-25 08:55
WASHINGTON - Despite a veto threat from President Bush, the U.S. House of Representatives on Tuesday easily approved bipartisan legislation that would permit more federal funding of stem cell research on human embryos that would otherwise be discarded.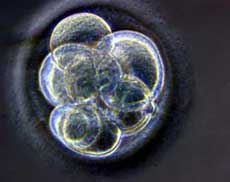 A handout photograph published May 19, 2005, shows a cloned human embryo, created at the Centre for Life in Newcastle upon Tyne, England, three days after the nuclear transfer took place. Legislation that would loosen restrictions on government funding of embryonic stem cell research headed for debate in the House of Representatives on May 24 under a veto threat from President Bush. Bush, who has yet to veto a bill during his presidency, planned to join the debate from the White House with a speech about why the government should stick with his policy. [Reuters]

The House also approved by a 431-1 vote less controversial legislation that would expand research involving cells drawn from umbilical cord blood.

The embryonic stem cell bill, sponsored by Delaware Republican Rep. Michael Castle (news, bio, voting record) and Colorado Democrat Rep. Diana DeGette (news, bio, voting record), would allow federal funding of stem cell research involving excess embryos from in vitro fertilization that would otherwise be discarded. It would not allow cloning a human baby.

The bill passed with a comfortable 238-194 margin, but was well short of the two-thirds threshold needed to override Bush's threatened veto.

Opponents of embryonic stem cell research believe it destroys human life and object to using taxpayer dollars to finance it. They also charge that the promise of the research has been hyped.

"The deliberate destruction of unique living self-integrated human persons is not some incidental tangent of embryonic stem cell research. It is the essence of the experiment -- kill some in the hopes of saving others," said House Majority Leader Tom DeLay, a Texas Republican.

But several conservative Republicans, who usually oppose abortion rights legislation, broke with their party leaders and the anti-abortion movement to support research, saying it held out hope for treating devastating diseases, like Parkinson's or diabetes.

Rep. Joe Barton (news, bio, voting record), a Texas Republican who chairs the House Energy and Commerce Committee, said in 21 years in Congress, he had voted only once against the anti-abortion movement. Announcing his support for the Castle-DeGette bill, Barton said his record would now be "100 percent minus two."

Missouri Republican Rep. Jo Ann Emerson (news, bio, voting record) described a similar struggle to reconcile her religious faith and the promise of technology. "I'm following my heart on this," said Emerson, who voiced regret for her past opposition to stem cell research.

Stem cells have the ability to transform themselves into many other types of cells, offering the potential for regenerating damaged organs or tissue. A stem cell line is a reservoir of cells derived from a single human embryo.

After the House vote three Democratic and three Republican senators wrote to Senate Majority Leader Bill Frist asking for swift Senate action on the legislation. "The American people want this," said Iowa Democrat Sen. Tom Harkin (news, bio, voting record).

Bush, who has never vetoed a bill as president, said the legislation would violate his 2001 policy in which he allowed federal funding for stem cell research but limited it to 78 stem cell lines that existed as of Aug. 9, 2001.

Only about 20 of those lines proved suitable for basic research, but they cannot be used in people because they were contaminated with mouse feeder cells.

Bush issued the veto threat last week and expanded on his opposition in a speech in the White House East Room. "This bill would take us across a critical ethical line, by creating new incentives for the ongoing destruction of emerging human life. Crossing this line would be a great mistake," he said.

A White House statement said the legislation "relies on unsupported scientific assertions to promote morally troubling and socially controversial research."

DeLay and other critics of embryonic research backed the alternative offered by New Jersey Republican Rep. Chris Smith and Alabama Democratic Rep. Artur Davis (news, bio, voting record) that would boost research using adult stem cells, bone marrow, and cells from umbilical cord blood.

Castle, DeGette and their supporters supported the cord blood bill as well, but said it represented only one segment of the research potential.

Supporters of embryonic stem cell research say more than 100 new cell lines have been created worldwide since Bush's decision and they should be studied with federal funds, which could lead to cures for serious diseases. Researchers can use private money as they wish.




Today's Top News
Top World News

China-Japan ties soured by shrine visits




US tightens quota noose on textile products




Tax drop helps farmers with rising income




Bird flu outbreak in Qinghai an 'isolated' case




14 US soldiers killed in 3 days in Iraq




Old Summer Palace in new controversy