Abbas to Bush: 'Stick seriously' to peace plan
(Agencies)
Updated: 2005-05-25 08:49
RAMALLAH - Palestinian President Mahmoud Abbas said on Tuesday he would ask George W. Bush at White House talks this week to "stick seriously" to a Middle East peace plan and avoid promises to Israel over the outcome of negotiations.
Palestinians welcome an Israeli plan to pull out of Gaza but bristle over continued expansion of Jewish settlements in the West Bank following a Bush assurance that Israel would not have to cede the entire territory under any realistic peace deal.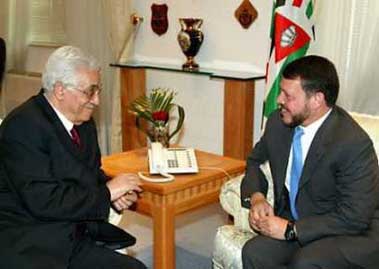 Jordan's King Abdullah (R) chats with Palestinian President Mahmoud Abbas at the Royal Palace in Amman May 24, 2005. Abbas said on May 24th he would ask U.S. President George W. Bush at White House talks this week to 'stick seriously' to a Middle East peace plan and avoid promises to Israel over the outcome of negotiations. [Reuters]

Abbas's trip to the White House will be the first by a Palestinian president since earlier peace talks aimed at Palestinian statehood collapsed into bloodshed in 2000.

Abbas said he would tout to Bush his achievements since being elected in January, including a ceasefire he wrung from militants and a start to security reforms -- both preconditions of a U.S.-devised "road map" peace plan.

But he would also urge Bush to make Israel uphold its obligations in the plan by, for instance, twinning the pullout of 8,500 settlers from Gaza by freezing construction in much larger settlements in the occupied West Bank.

"We will go and demand from the Americans to do their duty. What is their duty? It is to stick seriously to the road map," Abbas told the Arabic satellite television network al-Jazeera.

"It means not to give promises at the expense of final-status negotiations, to give (financial) support to the Palestinian Authority (government) and to support the peace process until it reaches its final conclusion," he said.

Aides to Abbas said earlier he had decided not to urge Bush at this meeting to guarantee "road map" negotiations after the Gaza pullout on broader political issues such as borders.

They said Abbas recognized that Washington was loath to do anything that might undermine Israeli Prime Minister Ariel Sharon against a spiraling Jewish rightist protest campaign aimed at scuttling the Gaza pullout.

SHARON SAYS W.BANK SETTLER BLOCS PERMANENT

Sharon told Jewish leaders in New York on Monday that Israel would keep main West Bank settlement blocs "forever and ever" but hinted he was open to future negotiations on other parts of the territory scattered with smaller Jewish enclaves.

Palestinians say the West Bank settlement blocs would strip them of land that would form the heart of the viable state they seek in territories Israel captured in the 1967 Middle East war.

Sharon again ruled out any "road map" process until armed Palestinian groups were disarmed and violence ceased completely.

Palestinian Interior Minister Nasser Youssef warned on Tuesday that chaos could reign in Gaza after the settlers leave because he said Israel was denying him the means to secure the territory, a militant hotbed.

A spokesman for Youssef said Israel rebuffed his request to import better weapons and other equipment he needed to contain militants behind a rash of truce violations in Gaza.

"The Israeli side showed no flexibility and put obstacles in the way of a serious understanding. "(But) we agreed to meet again next week," a statement by Youssef's ministry said.

Israel said after unproductive security-coordination talks with the Palestinians that it would evacuate settlers from Gaza even if Palestinian security forces did nothing to ensure calm but that they could do much more now to subdue militants.

Palestinian officials said another sticking point was Mofaz's refusal to resume promised prisoner releases and military pullbacks from West Bank cities.

Mofaz's ministry said on Tuesday Israel could not "expand humanitarian measures" for Palestinians until they "worked actively against terror."

But it said Youssef agreed to draw up a detailed plan to secure Gaza for the pullout and the sides would meet again soon.




Today's Top News
Top World News

China-Japan ties soured by shrine visits




US tightens quota noose on textile products




Tax drop helps farmers with rising income




Bird flu outbreak in Qinghai an 'isolated' case




14 US soldiers killed in 3 days in Iraq




Old Summer Palace in new controversy