Old Summer Palace in new controversy
By Liu Weifeng (China Daily)
Updated: 2005-05-25 05:48
The authorities have promised to better protect Beijing's Yuanmingyuan Park (the Old Summer Palace) following a series of recent controversies over the running of the park.
Beijing cultural relic protection authority and the park's administrators have vowed to improve the management of the site.

A workers covers impermeable membrane with soil in the massive water-saving project of Yuanmingyuan or the Old Summer Palace in Beijing March 30, 2005. This project has caused a lot of controversy and many experts say it would cause an environmental disaster to the palace's water system and its environment. [file photo]

"Some authorities have not attached enough awareness to their cultural relic protection work," said Kong Fanzhi, deputy director of the Beijing Cultural Relics Protection Bureau.

The most recent issue regarding Yuanmingyuan is the renting out of an island in the park, something that has provoked public concern about the excessive commercial use of the former imperial garden.

A "no visitors allowed" sign was discovered on the island a few days ago by a group of college students on a visit to Yuanmingyuan.

It was later discovered that twin brother comedians were renting it.

"They have moved out now and have terminated their contract with the park," said Yu Jun, deputy director with Haidian district government, which is responsible for the park's administration.

Yu said an improved park is expected to be set up by 2008.

"Any project or area that does not match the theme of the park will be taken out," said Yu.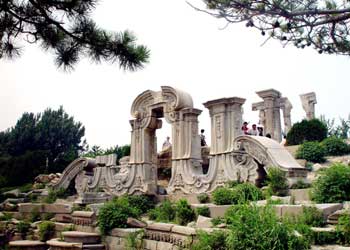 A section of the ruins of the Yuanmingyuan (old summer palace). [newsphoto file]

According to a notice issued by the Yuanmingyuan Administration Office, all planned amusement projects, including a bumper car ride and water related entertainment facilities, have been scrapped.

However, the park still faces another controversial issue over a residential area containing 30 luxury villas built 10 years ago inside one of the gardens in the park.

Wanchunyuan residential garden, a 30,000-square-metre area, became a new target for public criticism over the park's business exploitation.

Yu promised the villa issue would be solved to maintain a proper balance of projects in the park, although it would take some time.

Yu complained that there had been dozens of enterprises and more than 3,000 local farmers in the Yuanmingyuan area, which made it difficult to control what went on in the garden.

But after years of effort, less than 10 businesses and 700 farmers remain.

Those that have relocated have received compensation from the government, costing about 720 million yuan (US$88 million).

The Beijing Municipal Cultural Relics Protection Bureau has also pumped more than 40 million yuan (US$4.8 million) into protecting the park over the past four years.

Another controversial issue was the laying of a plastic cover on the beds of the park's lakes to prevent water seeping away.

An investigation into this issue is being carried out by experts from Tsinghua University, revealed Yu. They are expected to complete their work in 40 days.

(China Daily 05/25/2005 page3)




Today's Top News
Top China News

China-Japan ties soured by shrine visits




US tightens quota noose on textile products




Pentagon report: China an emerging rival




Tax drop helps farmers with rising income




Chinese bank wins approval for $2b IPO




South China factories short of workers