14 US soldiers killed in 3 days in Iraq
(Agencies)
Updated: 2005-05-25 08:28
A car bomb exploded next to a U.S. Army convoy in Baghdad on Tuesday, killing three soldiers, while another American died in a drive-by shooting a half-hour later. Their deaths pushed the number of U.S. troops killed in three days to 14, part of a surge in attacks that have also killed about 60 Iraqis.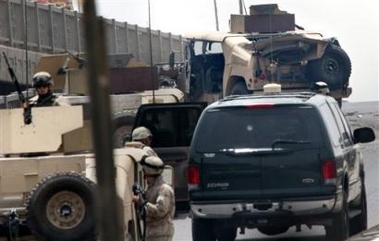 U.S. forces secure the area around a damaged Humvee, top-right, after a bomb rigged to a parked car exploded next to an American convoy by the al-Dora bridge in Baghdad Tuesday, May 24, 2005 killing three of the soldiers, according to a U.S. military spokesman. [AP]
In the northern city of Tal Afar, there were reports that militants were in control and that Shiites and Sunnis were fighting in the streets, a day after two car bombs killed at least 20 people. Police Capt. Ahmed Hashem Taki said Tal Afar was experiencing "civil war." Journalists were blocked from entering the city of 200,000.
Eighteen U.S. troops have been killed in Iraq during the past week, raising concerns that insurgents may again be focusing their sights on American forces in addition to Shiite Muslims.
The deaths come as American troops are trying to pave the way for a graceful exit from Iraq by giving more responsibility to the country's security forces. But with the Iraqis still relatively weak, U.S. troops remain in the firing line, targeted by insurgents that have shown increasing abilities to attack when and where they please.
More than 620 people, including 58 U.S. troops, have been killed since April 28, when insurgents launched a bloody campaign after Prime Minister Ibrahim al-Jaafari announced his new Shiite-dominated government. The Associated Press count is based on reports from police, hospital and military officials.
During the same period, there have been at least 89 car bombs killing at least 355 people, according to the AP count. There were an additional five suicide bombings by individuals wearing explosives that killed at least 107 people.
The man blamed for instigating many of the attacks, Abu Musab al-Zarqawi, has been wounded, according to a Web statement in the name of his group, al-Qaida in Iraq.
But U.S. officials cautioned they did not know if the posting was authentic, and privately said the information also may have been designed to purposely mislead.
The Jordanian-born al-Zarqawi has denounced Iraqi Shiites as U.S. collaborators and said killing them, including women and children, was justified.
Al-Zarqawi, who like his patron Osama bin Laden has a $25 million bounty on his head, has claimed responsibility for a relentless wave bombings, kidnappings and beheadings. They include a Feb. 28 bomb attack that killed 125 people in Hillah, south of Baghdad, in the single deadliest terror attack since Saddam Hussein's fall.
Earlier, U.S. forces announced the capture of two militants with links to al-Zarqawi: Mohammed Daham Abd Hamadi and Mullah Kamel al-Aswadi.
Hamadi's cell claimed responsibility for the kidnappings of Chinese and Turks; al-Aswadi was said to be al-Zarqawi's representative in Samarra, north of Baghdad.
Also Tuesday, Sunni and Shiite clerics and politicians intensified efforts to find a way out of a sectarian crisis that threatens a civil war.
Senior officials representing Iraq's two leading Sunni Muslim organizations met with Interior Minister Bayan Jabr. The Sunni officials recently had demanded Jabr's resignation, holding his office responsible for the killings of Sunni clerics and others.
Abdul-Aziz al-Hakim, a prominent Shiite politician, said there will be no civil war. "The awareness of the Iraqi people and the links between them will prevent such a war, God willing," al-Hakim told the AP in an interview.
Al-Hakim, who leads both the Supreme Council for the Islamic Revolution in Iraq and the governing United Iraqi Alliance, said insurgents had been trying to start a civil war between the Shiite majority and the Sunni minority since Saddam's ouster.
Sunnis opposed to the new government are thought to make up the insurgency's core, and some Sunni extremists have been attacking Shiites.
The attacks, al-Hakim said, were "the last card in order to incite sectarian war." He pointed to three against Shiites on Monday, which claimed most of the nearly 50 lives lost on that day alone.
Three U.S. soldiers were killed Tuesday in central Baghdad when a car bomb exploded next to their convoy. A U.S. soldier sitting in the back of a Bradley fighting vehicle at an observation post was then killed in a drive-by shooting.
Four soldiers were killed Monday after they were attacked in Haswa, 30 miles south of Baghdad, the military said. They were assigned to the 155th Brigade Combat Team, II Marine Expeditionary Force.
A Marine was killed during an indirect fire attack Monday on an American base in Ramadi, 70 miles west of Baghdad, the military said.
As of Tuesday, at least 1,643 U.S. military personnel have died since the Iraq war began in March 2003, according to the AP count.
A Georgian serviceman suffered serious wounds to his legs and arms Tuesday after the U.S. Army jeep he was traveling in north of Baghdad hit a land mine. There are 850 Georgian troops in the U.S.-led coalition in Iraq.
The U.S. military announced that a two-day operation involving more than 2,000 Iraqi soldiers and police — the largest joint campaign in the Baghdad area — had rounded up 428 suspected insurgents.
But insurgents continued to wreak havoc in the capital.
Residents called police about a suspicious-looking car parked opposite the Dijlah Junior High School for Girls in Alwiyah, near eastern Baghdad's Withaq Square, a Christian neighborhood. As bomb-disposal experts approached the vehicle, it exploded and killed six bystanders. No students were believed to be among the casualties.
Iraq's National Assembly convened Tuesday, during which a conservative Shiite lawmaker said he had been named to head a 55-member committee charged with drafting Iraq's constitution, which must be drawn up by mid-August and put to a referendum by October.
Cleric Hummam Hammoudi, an aide to al-Hakim, told the AP he was appointed head of the committee and a Sunni Arab and a Kurd were appointed his deputies.
___
Today's Top News
Top World News

China-Japan ties soured by shrine visits




US tightens quota noose on textile products




Tax drop helps farmers with rising income




Bird flu outbreak in Qinghai an 'isolated' case




14 US soldiers killed in 3 days in Iraq




Old Summer Palace in new controversy