Drivers down in the pumps
By Huo Yongzhe in Shanghai, Wang Zhenghua (China Daily)
Updated: 2005-05-25 01:15
"It is nothing more than a bowl of noodles to me,'' said a driver with the Jinjiang Taxi Company in Shanghai after learning petrol prices had dropped slightly yesterday morning.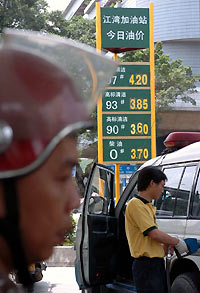 A worker at a gas station in Guangzhou, South China, fills a car with petrol yesterday while another driver is waiting. Petrol prices dropped slightly in the city following a central government decision to lower the ex-factory price of gasoline by 150 yuan (US$18) per ton. [newsphoto]

Like millions of the nations drivers, news of small savings at the pumps were met with a mixture of indifference and sometimes disdain.

Driving an average 400-kilometres every day, the driver uses about 40 litres of petrol. The price drop of 90-octane petrol from 3.66 yuan (44 US cents) per litre to 3.54 yuan (39 US cents) could help him save 5 yuan (60 US cents) a day -- the price of a bowl of noodles.

"It means nothing important to me,'' the driver said, who shares the car with a colleague. The pair lease the car from the cab company for 12,000 yuan (US$1,449) a month. Each earns about 3,000-4,000 yuan (US$362-483) a month.

Savings will be nominal after prices were lowered nationwide by China's National Development and Reform Commission. In Shanghai, the price of 93-octane petrol fell from 3.98 yuan (48 US cents) per litre to 3.85 (46 US cents), and in Beijing it fell from 3.92 yuan (47 US cents) to 3.79 (45.5 US cents).

Feng Jianhai, manager of Sinopec's Refuelling Station on the Chengdu North Road in downtown Shanghai, agreed that the difference caused by the price drop was minimal.

"A number of taxi drivers waited at the gate until midnight when the price was due to change, but the numbers were small,'' Feng said. "Consumers are numb after frequent price upswings.''

His station sells about 40 tons of gasoline a day. But he said the price of liquefied petroleum gas is also expected to drop within days.

"Judging from experience, the gas price will run parallel with that of petrol,'' Feng said, adding that the drop would probably also be marginal.

"The insensitivity to the price drop is understandable, as most consumption in Shanghai involves public vehicles," said Wang Qihua, a senior official with Sinochem Shanghai.

In Beijing, where according to statistics from the end of last year, about half of the city's 2.6 million vehicles are privately owned, the price cut came as good news.

By contrast, only about 300,000 of Shanghai's 2 million vehicles are privately owned, so price fluctuations do not have the same impact.

Even so, a nationwide survey of at least 20,000 people by sina.com.cn indicated the overwhelming majority thought the petrol price in China is still higher than expected.

About two-thirds of those surveyed said the current price drop is simply conforming to the international oil price fluctuation. They said they also expect the price for diesel fuel, which has been steadily rising in China, to go down.

Nevertheless, those surveyed online were evenly split on the question of whether they believe the price reduction will mean more deals for auto dealers.

After the government had raised the price of petrol by 300 yuan (US$35) a ton in March, the price cut surprised many oil traders.

"We did not expect the government to adjust prices so quickly," said one market observer. "The government is concerned the oil price hike may induce inflation."

Chinese oil companies will have to bear the brunt of the price cut, which will further squeeze their profits. Oil refining companies were already struggling after the government refused to allow them to pass the last hike in crude oil prices on to consumers.

An official from Sinopec, Asia's largest oil refiner, said his company will work to slash production costs to cope with the gasoline price cut while it maintains production to try to stabilize the market.

Wang, the Sinochem Shanghai official, said that fuel prices could drop further if international markets remain flat.




Today's Top News
Top China News

China-Japan ties soured by shrine visits




US tightens quota noose on textile products




Tax drop helps farmers with rising income




Bird flu outbreak in Qinghai an 'isolated' case




Drivers down in the pumps




PLA has toymaker in its sights