China-Japan ties soured by shrine visits
By Qin Jize (China Daily)
Updated: 2005-05-25 01:15
China yesterday expressed its indignation over remarks made by Japanese leaders about controversial shrine visits when explaining why a meeting between Vice-Premier Wu Yi and the Japanese prime minister was cancelled on Monday.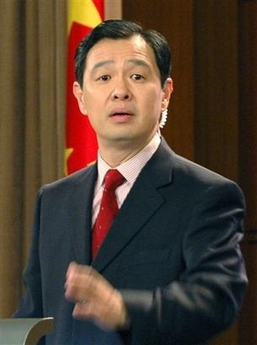 Chinese Foreign Ministry spokesman Kong Quan gestures during a news conference in Beijing Tuesday, May 24, 2005. [AP]

"To our regret, during Vice-Premier Wu Yi's stay in Japan, Japanese leaders repeatedly made remarks about visiting the Yasukuni Shrine, which go against efforts to improve bilateral relations, and China is extremely unsatisfied with the situation," said Chinese Foreign Ministry spokesman Kong Quan during a regular press conference in Beijing yesterday.

Wu arrived in Japan last Tuesday to attend the 2005 World Expo and cancelled a meeting with Japanese Prime Minister Junichiro Koizumi on Monday before leaving the country a day early.

Kong said the Chinese Government attached great importance to Sino-Japanese relations and had made unremitting efforts to improve and develop bilateral relations, adding that Wu's visit was the best demonstration of this determination.

He stressed the tour did achieve some positive results, including Wu's participation in the China Day of the World Expo, and her two speeches concerning the promotion the Sino-Japanese economic ties.

Beijing has repeatedly criticized Koizumi's visits to the Yasukuni Shrine, where 14 class-A war criminals are honoured.

On May 16, Koizumi hinted that he would visit the shrine again this year during questioning by the House of Representatives Budget Committee as saying: "I do not understand why I should stop visiting the Yasukuni Shrine."

Koizumi said last Friday that when he visited the shrine he did so as a private individual and not as prime minister.

"Under the current circumstances, especially as the world celebrates the 60th anniversary of the victory over fascism, some Japanese leaders, in great disregard of the feelings of the Chinese people, made some wrong and incorrect remarks about the Yasukuni Shrine," Kong said.

Sense of rightfulness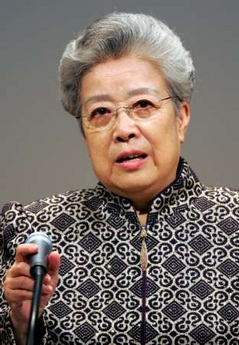 Chinese Vice Premier Wu Yi speaks at the 11th International Conference on 'The Future of Asia' in Tokyo May 23, 2005. [Reuters]
"They are showing no sense of rightfulness in their hearts while they are doing this," he said in response to Japan's demand for an apology for the cancelled meeting, adding that 35 million Chinese people died during Japan's invasion and occupation of parts of China from 1937 to 1945.
Kong said China sincerely hoped the two countries could make joint efforts to fulfill Chinese President Hu Jintao's five-point proposal on improving China-Japan relations.
Hu initiated the proposal during a meeting with Koizumi on April 23 in Jakarta on the sidelines of the Asia-Africa Summit.
Jin Xide, a researcher from the Chinese Academy of Social Sciences, considered the shrine visits by Japanese leaders the most thorny issue in current China-Japan political relations, which are at their lowest point since the normalization of diplomatic ties.
He said the shrine visits soured the possibility of dialogue between the countries' top leaders.
However, dialogue between the countries at other levels should continue to keep the lines of communication open.
Today's Top News
Top China News

China-Japan ties soured by shrine visits




US tightens quota noose on textile products




Pentagon report: China an emerging rival




Tax drop helps farmers with rising income




Chinese bank wins approval for $2b IPO




South China factories short of workers