Bird flu outbreak in Qinghai an 'isolated' case
By Zhao Huanxin (China Daily)
Updated: 2005-05-24 23:52
The latest outbreak of bird flu in Qinghai has so far proven to be an isolated case, with the northwestern province stepping up prevention, while the rest of the country enhances awareness.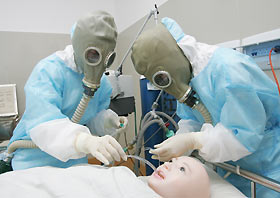 Well-protected doctors in East China's Zhejiang Province perform a fake first-aid on a "bird-flu-infected" dummy during a drill to have themselves prepared for any potential case in the province. [newsphoto/file]
A spokesperson of the Ministry of Agriculture, who identified herself only as Yang, yesterday said there were no new confirmed cases.
The ministry has reported the Qinghai incident to both the United Nations Food and Agriculture Organization, and World Organization for Animal Health, according to ministry sources.
"We have surveyed more than 2 million fowls in the whole province, and didn't detect any contagion (of the deadly H5N1 avian influenza virus) among them," Dang Chenyan, director of the Qinghai provincial animal epidemic prevention headquarters, said yesterday.
Nor has the disease spread to humans, he said.
The province is well on its way to finishing the vaccination of its domestic poultry flock after the ministry confirmed last Saturday that the deaths of migratory birds in Gangcha County on May 4 were caused by bird flu, Dang said.
The number of dead bar-headed geese reached 178 on the "bird island" in Qinghai Lake - the largest saltwater lake in China - and in nearby areas, according to a ministry statement.
The provincial government has allocated 3 million doses of avian flu vaccine, as part of emergency measures to bring the disease under control, Dang said.
Other steps include enhancing monitoring and sealing areas to prevent people and domesticated flocks from coming into contact with wild birds, said sources from the provincial animal epidemic control headquarters.
Following an urgent circular the Ministry of Agriculture issued last weekend, animal epidemic prevention centres nationwide have put contingency plans into place and tightened monitoring.
In Central China's Henan Province, a round-the-clock bird flu surveillance network has been put into action to feed early warning information to animal health staff and decision makers, according to a Xinhua report.
The report quoted the provincial centre for disease control and prevention as saying the odds were rather low of there being an outbreak of bird flu in Henan.
Apart from preventive efforts, high summer and autumn temperatures make it difficult for bird flu viruses to survive due to their sensitivity to temperature, said the report.
Gan Qiangzhong, deputy magistrate of Long'an County in Southwest China's Yunnan Province, said yesterday the situation in the region was quite normal.
Dingdang Township in Long'an County reported China's first contraction of the H5N1 strain of bird flu on January 27, 2004.
"We have all our prevention measures in place," he said.
(China Daily 05/25/2005 page2)
Today's Top News
Top China News

China-Japan ties soured by shrine visits




US tightens quota noose on textile products




Tax drop helps farmers with rising income




Bird flu outbreak in Qinghai an 'isolated' case




Drivers down in the pumps




PLA has toymaker in its sights