Tax drop helps farmers with rising income
By Huan Xin (China Daily)
Updated: 2005-05-24 23:52
Agricultural tax revenue for 2005 may constitute less than 10 per cent of last year's total, according to the latest estimation of the State Administration of Taxation.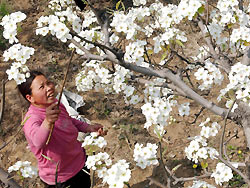 A farmer carries artificial pollination for a pear tree near Zhengzhou, capital of Central China's Henan Province, May 24, 2005. [newsphoto]
The substantial cut means burdens on farm households would be further allayed.
It also paves the way for the establishment of a unified tax system for rural and urban areas in China, experts said yesterday in Beijing.
"China's agricultural tax revenue is expected to plunge by 93 per cent year-on-year - from 23.2 billion yuan (US$2.8 billion) in 2004 to 1.5 billion yuan (US$180 million) this year," the taxation agency said in a statement on Monday.
The country collected only 305 million yuan (US$36.7 million) in agriculture and animal husbandry taxes in the first four months, down by 77 per cent from the same period in 2004, the statement said.
The scenario indicated agricultural tax burden on Chinese farmers will be reduced by at least 20 billion yuan (US$2.4 billion), a spokesman of the taxation agency said.
Zhang Peisen, a senior researcher with the Taxation Research Institute under the State Administration of Taxation, yesterday said the drastic shrinkage is a natural outcome of the country's implementation of a landmark policy, which promised in 2004 to scrap such taxes in five years.
So far, 27 provinces, autonomous regions and municipalities have already cancelled, or decided to exempt agriculture tax, according to Zhang.
"We anticipate such a tax will likely be lifted for the whole country next year," he said.
However, the researcher warned the exemption of the agricultural tax may not automatically lead to ultimate relief of financial burdens on farmers.
"In addition to the taxes, farmers in most areas used to subject to some extra fees and measures," Zhang said. "Now that the agricultural tax is abolished, the other fees that go along with it should also be called off."
Hailing the role of the axed taxation in solving problems pertaining to China's agriculture, rural areas and rural people, Zhang said the policy also helped lay the ground for the implementation of a unified tax system for the whole country.
Currently, different tax systems are in place for the country's rural and urban areas.
The waiving of agricultural tax throughout the Chinese mainland, plus subsequent policies to boost rural economy, will make it possible to devise and practice a unified tax system in the countryside, he said.
Ni Hongri, another researcher with the State Council's Development Research Centre, said that following the cancellation of the agricultural tax, it is important for the central budget to ensure transfer payments come to local revenues, which in the past were derived largely from agricultural tax.
She said a unified tax system is liable only when the income gap between urbanites and rural residents is narrowed to a reasonable degree.
And that may take years to happen, she said.
(China Daily 05/25/2005 page2)
Today's Top News
Top China News

China-Japan ties soured by shrine visits




US tightens quota noose on textile products




Tax drop helps farmers with rising income




Bird flu outbreak in Qinghai an 'isolated' case




Drivers down in the pumps




PLA has toymaker in its sights