NASA postpones move of discovery
(Agencies)
Updated: 2005-05-24 09:38
NASA has postponed the move of space shuttle Discovery back to its assembly building so workers can inspect it for cracks on the landing gear.
Last week, a small crack was found on the right main landing gear of the shuttle Atlantis and NASA wants to make sure Discovery doesn't have the same problem.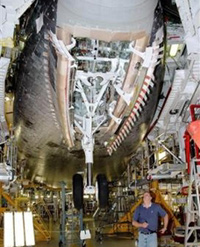 In this photo released by NASA a worker checks the recycling of space shuttle Atlantis' landing gear May 16, 2005 at Kennedy Space Center in Cape Canaveral, Fla. [AP]
Officials also wanted to make sure the landing gear of the fleet's two other shuttles are free of cracks before July, when Discovery is scheduled to become the first shuttle to launch since the fatal Columbia disaster in 2003.
Discovery was to be rolled back into the hangar to replace its external fuel tank with a safer, updated model. The rollback was scheduled for Tuesday but has been rescheduled for Thursday.
NASA spokeswoman Jessica Rye said the landing gear inspection shouldn't have any effect on Discovery's scheduled launch date.
Today's Top News
Top World News

US poised to ratchet up textile protectionism




China chides Japan leaders' remarks




Industrial profits slow in first months




No consensus on UN Council change




Computer giant HP mute over toxin use




"Huge" cash aid to level ethnic poverty