Palestinians announce delay in elections
(Agencies)
Updated: 2005-05-24 09:38
The Palestinian Election Commission said Monday that parliamentary elections scheduled for July 17 will be delayed because it needed more time to prepare for the vote — a move threatening to inflame a dispute between the militant group Hamas and the ruling Fatah party.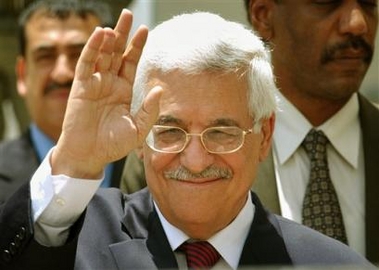 Palestinian Authority President Mahmoud Abbas, also known as Abu Mazen waves after a meeting in the West Bank city of Ramallah, Monday, May 23, 2005. [AP]
The election commission said it would need at least two months from the time a new election law was ratified to prepare for the vote. The law is being held up by a dispute between Palestinian leader Mahmoud Abbas and parliament over how many legislators should be chosen in district elections and how many from party slates.
Hamas, which hopes to gain after strong showings in three rounds of municipal elections since December, has insisted the parliament vote be held as scheduled. Before Monday's announcement, Hamas spokesman Mohammed Ghazal accused Fatah of using logistics as a pretext to delay the vote.
The commission said it could carry out the election on time, but only based on the old law. It called on Abbas to issue a presidential decree with a new election date as soon as possible.
"The Palestinian election commission understands that the Palestinian factions are looking for a law that is suitable for all, but the commission would like to say that it needs two months, after the ratifying the law, to prepare for the elections, and a new presidential decree to cancel the former one," the commission said in a statement.
Abbas has said he supports holding the election July 17. However, he also is holding up final approval of the new election law.
Late Monday, Israeli Defense Minister Shaul Mofaz met with Palestinian Interior Minister Nasser Yousef to discuss Israel's planned withdrawal from Gaza this summer and the recent flare-up of violence in Gaza. Israeli media said Mofaz asked Yousef to upgrade training of Palestinian police so they can more effectively assert control in Gaza when Israel leaves.
Prime Minister Ariel Sharon, speaking during a visit to New York on Monday, said Israel will turn the Gaza-Egypt border over to the Egyptians if they stop Palestinian arms smuggling.
The handover would be part of Israel's withdrawal from Gaza, set for the summer. Israel patrols a wide border road near the Rafah border crossing and often has sent troops into the Rafah refugee camp, uncovering dozens of arms smuggling tunnels.
Speaking to Israel Bonds leaders in New York, Sharon said if Egypt stops the smuggling, "Israel will be glad to leave this area."
Israeli Vice Premier Ehud Olmert reiterated Monday that Israel's withdrawal would not be delayed beyond mid-August, even if Palestinian militants fire on troops and settlers during the pullout.
"In any circumstance, under all conditions, disengagement will take place," Olmert told Israel Radio.
In a second Palestinian electoral dispute, Mustafa Buhairi, a deputy to Egyptian intelligence chief Omar Suleiman, arrived in Gaza on Monday to prop up a Mideast truce, shaken by an increasingly angry dispute between Fatah and Hamas over local election results.
Hamas, which launched a barrage of rockets and mortar shells at Israeli settlements in Gaza last week, has said it might walk away from the cease-fire unless Fatah withdraws a legal challenge to results in three Gaza communities where the Islamic militants won elections earlier this month.
That dispute began after a special court, formed to settle election disputes, ordered a partial revote in three large communities — the towns of Rafah and Beit Lahiya and the Bureij refugee camp. Hamas had won a majority in all three local councils in May 4 elections, but Fatah alleged voting irregularities.
A top Fatah official, Abdullah Franji, rejected Hamas allegations that the election courts are beholden to Fatah. He said election courts in the West Bank have ruled against Fatah in 21 separate cases.
Franji said the Egyptian delegation came to Gaza because of concern that instability in Gaza could easily spill over into Egypt.
"So Egypt is trying to solve all obstacles and problems, and to overcome all the differences in Palestine," he said.
Today's Top News
Top World News

US poised to ratchet up textile protectionism




China chides Japan leaders' remarks




Industrial profits slow in first months




No consensus on UN Council change




Computer giant HP mute over toxin use




"Huge" cash aid to level ethnic poverty