China chides Japan leaders' remarks
(Agencies)
Updated: 2005-05-24 09:20
China is extremely dissatisfied with remarks repeatedly made by Japanese leaders on visiting a controversial war shrine which do not help improve bilateral relations, Chinese foreign ministry spokesman Kong Quan said Monday.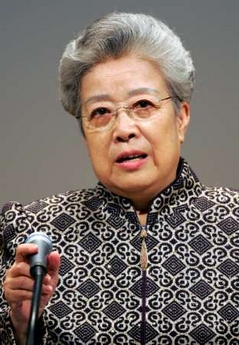 Chinese Vice Premier Wu Yi speaks at the 11th International Conference on 'The Future of Asia' in Tokyo May 23, 2005. [Reuters]

Chinese Vice Premier Wu Yi canceled a meeting with Japanese Prime Minister Junichiro Koizumi on Monday and left a day early, prompting a diplomatic stir over a trip some had hoped would help repair frayed ties.

Sino-Japanese relations have sunk to their lowest level in decades amid a series of feuds, including one sparked by Koizumi's visits to the Yasukuni shrine for war dead, seen by Beijing and Seoul as a symbol of Japan's past militarism.

A day before Wu's arrival in Japan, Koizumi indicated to a parliamentary committee on May 16 that he would again visit the war shrine, which venerates 2.5 million Japanese war dead including 14 top war criminals from World War II.

"To our regret, during Vice Premier Wu Yi's stay in Japan, Japanese leaders repeatedly made remarks on visiting the Yasukuni shrine that go against the efforts to improve Sino-Japanese relations," Kong Quan said, "China is extremely unsatisfied with it."

Kong said the Chinese government attached great importance to Sino-Japanese relations and had made unremitting efforts to develop bilateral relations. "Vice Premier Wu Yi's visit to Japan is the best demonstration of it."

Assistant Foreign Minister Shen Guofang told Reuters: "We believe a good atmosphere is needed for Wu Yi to visit ... The Japanese government, especially some leaders, do not have a correct understanding and unceasingly spread incorrect remarks regarding history. We think it was very inappropriate to make those remarks while Vice Premier Wu Yi was visiting."

"This is the most sensitive issue in relations between the two countries," Shen said. "If the Japanese government can adopt a very wise attitude and not visit, many problems in Sino-Japanese relations can be easily resolved."

China had earlier cited domestic commitments as the reason for calling off the meeting by Wu, Beijing's top-ranking woman and the most senior Chinese official to visit Japan since 2003.

But the cancellation -- a diplomatic rarity -- and the fact that Wu was going ahead with a visit to Mongolia on Tuesday clearly angered Japanese officials.

Anti-Japanese protests swept Chinese cities last month. The protests were triggered by Tokyo's approval of a school textbook that critics say whitewashes its 1931-45 invasion and partial occupation of China and by its bid for a permanent seat on the U.N. Security Council.

Japanese papers blame Koizumi for missed opportunity

Japanese papers have blamed Prime Minister Junichiro Koizumi's refusal to give up visiting a war shrine for the sudden cancellation of a meeting with Wu Yi, saying an opportunity was missed to improve tense ties.

"It is very likely that Koizumi's remarks on his visit to the Yasukuni shrine has caused the cancellation," the liberal daily Mainichi Shimbun said in an editorial.

The Mainichi said Wu's cancellation was "extremely unprecedented" under diplomatic protocol, adding: "It was very unfortunate since the meeting could have been a step toward improving Sino-Japanese relations."

The Nihon Keizai in an editorial Tuesday also interpreted Wu's abrupt departure as a response to the shrine row.

Quoting Japanese government sources, the country's top-selling daily Yomiuri Shimbun said Koizumi's war shrine visit was likey "the direct cause" for Wu's cancellation.





Today's Top News
Top China News

US poised to ratchet up textile protectionism




China chides Japan leaders' remarks




Industrial profits slow in first months




China sees no sign of N.Korea nuclear test




No consensus on UN Council change




China risks becoming world hi-tech waste bin