HK Disneyland draws fire over soup
(Agencies)
Updated: 2005-05-24 08:48
Environmentalists urged Hong Kong Disneyland on Monday not to serve shark fin soup when the park opens in September, but Disney officials said they planned to offer the dish at special banquets in accordance with local customs.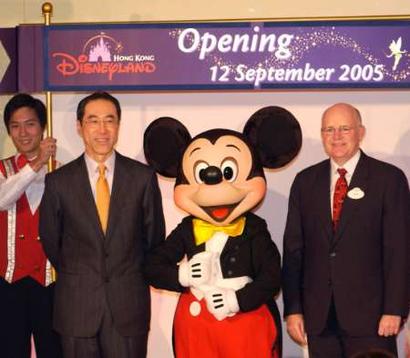 Don Robinson (R), Hong Kong Disneyland Group managing director and Hong Kong Financial Secretary Henry Tang (2nd L) celebrate with Mickey Mouse during a news conference to announce the opening date of the Hong Kong Disneyland. The Hong Kong government earlier said the entertainment park will employ 5,000 workers which should ease the territory's high umemployment rate of 6.8 percent. [Reuters]


Greenpeace and the Worldwide Fund for Nature have asked Hong Kong Disneyland to take shark fin soup off the menu after the theme park announced last week the delicacy would be served at wedding banquets and other special events at the park.

Environmentalists say millions of sharks are killed each year for their fins, driving many species close to extinction. The fins are hacked off and the fish are dumped back into the sea to die.

"It's a hugely wasteful practice," said Greenpeace spokesman Martin Baker. "We were incredulous when we heard that Disney would be serving shark fin soup."

Hong Kong Disneyland spokeswoman Irene Chan said: "Hong Kong Disneyland takes environmental stewardship very seriously, and we are equally sensitive to local cultures. It is customary for Chinese restaurants and five-star hotels to serve shark's fin soup in Hong Kong as the dish is considered an integral part of Chinese banquets."

Another Disneyland spokeswoman, Esther Wong, stressed that shark fin soup would only be served when customers requested it at special banquets.

"The whole point is being respectful to local cultures," Wong said. "It is what the locals see as appropriate."

Another Hong Kong environmentalist, Brian Darvell of the South China Diving Club, said: "The very fact it is traditional does not make it right. It's mind-boggling that Disney could be so inconsistent with their environmental line and go on with defending its decision."

Baker said: "How can the same company that produced Finding Nemo — with its message that marine life is under threat — at the same time support a trade that is unsustainable, wasteful and cruel."




| | |
| --- | --- |
| | |
| Cecilia Cheung in Chen Kaige's period flick | |

| | |
| --- | --- |
| | |
| Girl body sushi: too raw for China | |

| | |
| --- | --- |
| | |
| Kylie Minogue's cancer delays baby plans | |
Today's Top News
Top Life News

US poised to ratchet up textile protectionism




China chides Japan leaders' remarks




Industrial profits slow in first months




China sees no sign of N.Korea nuclear test




No consensus on UN Council change




China risks becoming world hi-tech waste bin