Computer giant HP mute over toxin use
By Qin Chuan (China Daily)
Updated: 2005-05-24 00:38
An investigation by conservation group Greenpeace has found computers made by IT giant Hewlett Packard (HP) and sold in Europe as well as in China contain dangerous levels of deadly toxins.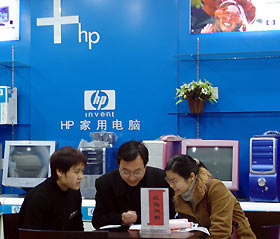 Customers examine a type of HP notepad in an outlet in Zhengzhou, capital of Central China's Henan Province, March 8, 2005. [newsphoto]

The environmental organization claimed tests carried out in late 2003 in Amsterdam showed the amount of brominated flame retardants (BFRs) contained in HP computers was much higher than that in other tested products.

BRFs have been linked to cancer.

However, Greenpeace said HP was continuing to sell products known to contain high levels of BFRs to customers.

TBBPA, a kind of BFR, made up 20 per cent of all plastic weight in the company's Pavilion A250 Nl desktop model sold in the Netherlands, said Greenpeace. The model was also marketed in China.

Greenpeace learns that HP is using the same materials in its products worldwide.

The BFR level is 10 times more than the levels found in IBM computers, according to Lai Yun, director of Greenpeace China's toxic substance programme.

China Daily faxed HP China yesterday for its comment but had received no reply by press time.

However, in a reply e-mail to Greenpeace on the issue dated May 24, 2004, HP said: "We would like to add that HP has a strong history of removing this material (TBBPA) from our products as alternatives that meet the quality, performance and functional requirements of our products are identified.

"Currently TBBPA is used as a frame retardant in printed wiring boards and in housing plastics in a limited number of desktop computer products including the models that Greenpeace tested."

In the two years since the test, Greenpeace has been contacting the world's leading electronics giants to demand they stop using toxic substances, especially BFRs.

Some companies have already made commitments to phase out the chemical's use, Lai said.

Sony Ericsson has committed to removing BFRs from all its products by the end of 2005, and Nokia has promised to do the same by the end of 2006.

However, some others -- including HP, Apple, Dell, Fujitsu-Siemens, IBM, LG, Motorola, Panasonic, and Toshiba -- have yet to make similar commitments.

At the Eighth China Beijing International High-Tech Expo, which opened yesterday in Beijing, Greenpeace China unveiled a 2.7-metre-high statue shaped like a wave, built using electronic waste collected from recycling yards in Guiyu, South China's Guangdong Province.

Also yesterday, Greenpeace activists delivered a truckload of e-waste to the company's European headquarters in Geneva and called on its CEOs to stop using dangerous chemicals.

Some BFRs will be banned in the regulations on electronic waste, which will come out as soon as possible, said a source with the Economic Reform and Operations Department under the Ministry of Information Industry.

But he said TBBPA is not included among them.

The regulations, the first of their kind in China, will cover all electronic products in the country, the source said.




Today's Top News
Top China News

US poised to ratchet up textile protectionism




Industrial profits slow in first months




Computer giant HP mute over toxin use




Vice Premier cancels meeting with Koizumi




Cash aid to level ethnic poverty




Shares end at 6-year lows as textiles dive