"Huge" cash aid to level ethnic poverty
By Sun Shangwu (China Daily)
Updated: 2005-05-23 22:49
Over half a million people from the nation's ethnic minorities are to receive a "huge" cash injection, the central government announced yesterday.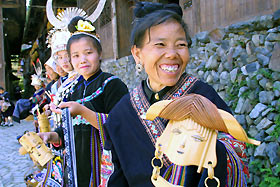 Miao minority women in Langdeshang Village of Guizhou Province, Southwest China, offer their typical products to visitors for sales. Chinese local governments are trying to use "village tourism" as a new way to elevate rural folks out of poverty. The central government announced yesterday that some 630,000 people from 22 of the country's 55 ethnic minority groups will receive a financial aid to help them have enough food and clothing. [newsphoto]

Around 630,000 people from 22 ethnic minority groups will benefit from the financial aid, the amount of which is undisclosed, officials from ethnic affairs ministry said yesterday.

Employment training schemes will also be made available.

Official statistics show one out of four people from 22 ethnic groups do not have enough food and clothing. One of the goals of the cash and training programme is to rectify this, said senior officials.

Lan Bujin, an official with the Economic Department of the State Ethnic Affairs Commission, said the investment will be "increased by a large margin."

The announcement comes in response to a six-year development programme (2005-10) established last week by the State Council, or cabinet, for the ethnic groups. Each of the 22 has fewer than 100,000 people.

"We are now working with the other central government departments, such as the Ministry of Finance, the Ministry of Communications and state-owned banks, to decide the investment scale in regions inhabited by these groups," Lan said.

Li Wenliang, spokesman of the commission, said the reason for the programme "is that they live in remote areas where natural conditions are harsh and the social development level is low."

The 22 minorities are Maonan, Salar, Blang, Tajik, Achang, Pumi, Ewenki, Nu, Jing, Jino, De'ang, Baoan, Russian, Yugur, Uzbek, Monba, Oroqen, Dulong, Tatar, Hezhe, Gaoshan and Lhoba.

They live in 640 villages in 10 provinces and autonomous regions such as Inner Mongolia, Tibet, Heilongjiang, Yunnan and Xinjiang, Li said. Sixteen of the minorities are located along frontier areas.

China has 56 ethnic groups, with Han as the largest one, whose population accounts for 93.3 per cent of the country's 1.3 billion people.

Between 2002-04, the central government allocated 117 million yuan (US$14 million) to develop local infrastructure as well as improve education and health conditions in these regions, Li said.

"The investment in the next five years will be much more than this figure," said Lan, noting that the priority will be given to develop infrastructure, such as roads, water and power facilities.

Local people are also expected to benefit from the increased investment by learning skills to improve their production and getting more access to education and public health service, Lan said.

Liang Dachao, secretary-general of the Association for Underdeveloped Regions in China, said yesterday that the help extended to these ethnic groups helps China striving to build a "harmonious society."

His association, with hundreds of companies as its members, is encouraging more enterprises to invest in areas inhabited by ethnic minorities.

"Business is linked closely with local natural resources," Liang said. "And both enterprises and local people can get benefit from such co-operation."




Today's Top News
Top China News

US poised to ratchet up textile protectionism




Industrial profits slow in first months




Computer giant HP mute over toxin use




Vice Premier cancels meeting with Koizumi




"Huge" cash aid to level ethnic poverty




Number of CPC members reaches 69.6 million