Industrial profits slow in first months
By Su Bei (China Daily)
Updated: 2005-05-23 22:49
The nation's industrial firms saw profits dip in the first four months of the year largely due to the government's macro-control measures.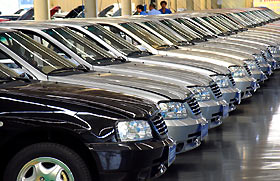 The Geely semi-compact cars line up for final examine before heading for the market in east Zhejiang Province April 14, 2005. [newsphoto/file]

The National Bureau of Statistics said yesterday profits made by industrial firms rose 15.6 per cent year-on-year to 389.3 billion yuan (US$46.9 billion) during the January-April period.

However, this was down on the rise of 45.7 per cent to 334.2 billion yuan (US$40.3 billion) during the same period last year.

Wang Zhao, a senior researcher with the State Council Development Research Centre, said the dip was in line with the country's current economic situation.

"The economy has stepped into a stable development period, from an upward trend during the past three years from 2002," he said.

Zhang Xueying, a senior economist with the State Information Centre, said the profit slow-down was the result of a decline in fixed asset investment following the macro-control measures.

Since mid-2003, China has taken a raft of measures including strict land supply management and an interest rate rise for the first time in nearly a decade to cool investment in sectors such as steel and cement.

The measures had a big impact on fixed asset investment and company profits as well, Zhang said.

Zhuang Jian, a senior economist with the Asian Development Bank, said higher prices for products such as oil and raw materials, as well as fierce competition, have also squeezed industrial companies' profit margins.

Prices of energy and raw materials rose 9.9 per cent during the first four months and producer prices rose 5.8 per cent. But consumer prices only climbed 2.6 per cent.

"Companies prefer losing profits rather than market share amid fierce competition," Zhuang said.

According to the statistics bureau, profits earned by State-owned firms and firms in which the State holds a majority stake grew 14.1 per cent year-on-year during the first four months, while that by overseas-funded firms declined 3.5 per cent.

Earnings at coal and crude oil producers rose 98 per cent and 69.8 per cent respectively during the four months, while that of companies in the transport equipment and electricity power sectors declined 52 per cent and 28.5 per cent.

Net losses at unprofitable firms stood at 71.8 billion yuan (US$8.7 billion), up 46.1 per cent, the bureau said.




Today's Top News
Top China News

Vice Premier Wu Yi cancels meeting with Koizumi




US poised to ratchet up textile protectionism




Industrial profits slow in first months




Cash aid to level ethnic poverty




Shares end at 6-year lows as textiles dive




Local textile sales will offset export curbs