US, Iraq troops launch Baghdad offensive
(Agencies)
Updated: 2005-05-23 18:19
BAGHDAD, Iraq - Seven Iraqi battalions backed by U.S. forces launched an offensive in the capital on Sunday in an effort to stanch the violence that has killed more than 550 people in less than a month, targeting insurgents who have attacked the dangerous road to Baghdad's airport and Abu Ghraib prison.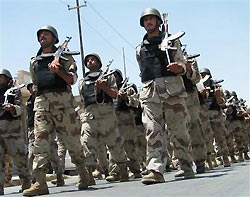 Members of the Iraqi army hold a tribute parade Sunday, May 22, 2005 to honour the memory of fallen police hero Maj. Imad Shakir Mahmoud who died whilst stopping a suicide bomber on Sunday, May 15, in the city of Baqouba, 60 kilometers (35 miles) northeast of Baghdad in Iraq Sunday, May 22, 2005. [Reuters]

Aides to a radical anti-American Shiite cleric, meanwhile, sought to defuse tension between Sunnis and the majority Shiites after a recent series of sectarian killings.

Iraq's government took the diplomatic offensive, joining the United States in its oft-repeated demands that Syria close its porous border to foreign fighters.

A senior Iraqi Trade Ministry official was killed Sunday in an ongoing terror campaign that has killed more than 550 people in less than one month. On Monday, a top aide to Iraq's Cabinet was assassinated.

Iraqi authorities also announced that Ghazi Hammud al-Obeidi, 65, one of the most-wanted officials from Saddam Hussein's former regime, had been released last month apparently because he was apparently terminally ill with stomach cancer.

Al-Obeidi had been regional chairman of the ruling Baath Party in the southeastern city of Kut. He was detained May 7, 2003, and released April 28, making him the first of the 55 most-wanted Iraqis to be freed. He was No. 51 on the most-wanted list.

The U.S. military said the offensive in the west of the capital had been set in motion to root out insurgents, especially those who have staged bloody assaults on the U.S.-run Abu Ghraib prison and the notoriously dangerous road from downtown to the airport.

Without providing numbers of troops, U.S. officials said four battalions of Iraqi soldiers and three battalions of police launched the offensive with the support of an unspecified number of American military personnel, although a total of about 2,500 personnel were believed involved.

Suspects were detained but the military gave no numbers.

"Iraqi army and ministry of interior forces worked very well together and demonstrated good, solid fundamental skills today," said Col. Mark A. Milley, commander of the 2nd Brigade Combat Team, 10th Mountain Division.

On Monday, three suicide bombers tried to attack an American military in Samarra, 60 miles north of Baghdad; three U.S. soldiers were injured, the military said.

Two suicide bombers detonated their car bombs, Maj. Richard Goldenberg said. A third militant approached the scene wearing an explosives-packed vest and was shot by soldiers but still managed to set off his bomb, killing himself but causing no other injuries or damage, Goldenberg said.

The Polish military said Sunday that Polish and Iraqi forces have arrested 187 people suspected of carrying out, planning or supporting insurgent attacks in central Iraq, seizing explosives and ammunition. The arrests were made Thursday and Friday in Wasit province, which borders Iran.

Also Sunday, three Romanian journalists and their Iraqi-American guide were released after being held captive for nearly two months. Iraqi insurgents had demanded Romania withdraw its soldiers from Iraq. Bucharest rejected the demand.

Separately, Iraqi security forces captured Ismail Budair Ibrahim al-Obeidi, a "terrorist" close to the network of the Jordan-born militant Abu Musab al-Zarqawi on Tuesday in Baqouba, northeast of Baghdad, a government statement said.

The terror suspect, also known as Abu Omar, planned car bomb attacks in Baghdad and rigged booby-trapped cars for foreign fighters, the statement said.

In charging Syria with failing to stop the influx of foreign fighters, Baghdad was restating a routine U.S. complaint.

"Syria can do more," government spokesman Laith Kuba said at a news conference. "It has a regime based on security, intelligence and police" he said, arguing that Damascus must know of the presence of the foreign fighters.

"It is impossible for about 2,000 people coming from the Gulf to pass through Syria and cross from Qaim or other border points without being discovered, despite our repeated calls," he said.

Prime Minister Ibrahim al-Jaafari said during a trip to Turkey last week that he would soon visit Syria to discuss the issue of foreign infiltration.

Syria has been coming under pressure to stop foreign fighters infiltrating into Iraq, where violence has drastically increased since the April 28 announcement of al-Jaafari's Shiite-led government. Syria has always denied the charges.

Senior aides of anti-U.S. cleric Muqtada al-Sadr met a key Sunnis group in a bid to soothe tensions that have flared and resulted in the death of 10 Shiite and Sunni clerics in the past two weeks.

"There is a wound that needs to be treated and Muqtada was the first to offer his medicine," said Sheik Abdul Salam al-Kubaisi, spokesman for the Sunni Association of Muslim Scholars after the talks with the al-Sadr delegation.

The association's leader, Harith al-Dhari, last week pinned the killing of several Sunnis, including clerics, on the Badr Brigades, the military wing of Iraq's largest Shiite party, the Supreme Council of the Islamic Revolution in Iraq.

Brigade general secretary Hadi al-Amri has denied the charge and accused the Sunni association of wanting to "push Iraq into a sectarian conflict."

Al-Sadr, a burly, black-bearded cleric, said in a television interview aired Sunday the talks were aimed at settling the feud between the association and the Badr Bridges. He resurfaced this week after lying low following fierce battles last year in the southern holy city of Najaf and Baghdad's impoverished Sadr City between his supporters and U.S. forces.

Al-Kubaisi, the Sunni association official, said he handed al-Sadr's delegation a document committing his group to certain steps, but he did not elaborate. More meetings with al-Sadr's group will be held in the future, he said.

Sunni leaders announced Saturday they had formed an alliance of tribal, political and religious groups to help Iraq's once dominant minority break out of its deepening isolation following a Shiite rise to power after Saddam's ouster.

Kuba said Sunni Muslim leaders should take a strong stand on the killing of security forces and others at the hand of the insurgents. Sunni extremists are believed to be driving Iraq's relentless insurgency.

"They should also give their opinion about the killing of civilians," he said. "The Iraqi people want to hear that."

Sunnis are believed to make up the bulk of Iraq's raging insurgency, which claimed more victims Sunday, including Trade Ministry official Ali Moussa and his driver. On Monday, gunmen killed a top aide to al-Jaafari's Cabinet and his driver, police said. Wael al-Rubaei and his driver were attacked in central Baghdad as they were heading to work, said police Lt. Majid Zaki.

They were killed in a drive-by shooting while heading to work, ministry spokesman Faraj al-Jaafari said. Moussa ran the ministry's auditing office and was a junior official during Saddam's regime.

A suicide car bomber also blew himself up near a U.S. convoy and police station in Tikrit, 80 miles north of Baghdad, killing one American soldier and wounding two others along with and two Iraqi policemen, the military said.

Also Sunday, a U.S. soldier was killed in a vehicle accident near Kirkuk, 180 miles north of the Iraqi capital, the military said.




Today's Top News
Top World News

Vice Premier Wu Yi cancels meeting with Koizumi




Shares end at 6-year lows as textiles dive




Local textile sales will offset export curbs




China ready to counter US space plans




Poultry gets bird flu vaccine in Qinghai




Protesters heckle Laura Bush in Jerusalem