Shares end at 6-year lows as textiles dive
(Agencies)
Updated: 2005-05-23 16:40
China's shares closed at their lowest levels in six years on Monday after the key index suffered its biggest single-day loss in seven months as investors cashed out of textile stocks following a rise in export tariffs.

The higher tariffs, which apply to 74 textile lines from June 1, were imposed to cool a trade dispute with the United States and the European Union.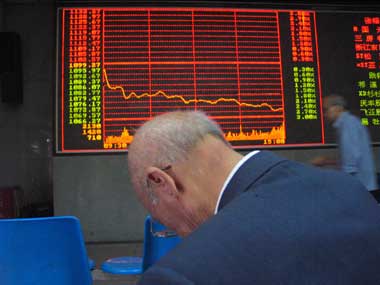 A stock investor lowers his head in the securities office in Shanghai as the index dives May 23, 2005. The The benchmark Shanghai composite index , which had chalked up a string of successive six-year lows this month, closed at 1,070.844 points, its lowest close since May 18, 1999, when it finished at 1,059.87. [newsphoto]

The benchmark Shanghai composite index , which had chalked up a string of successive six-year lows this month, closed at 1,070.844 points, its lowest close since May 18, 1999, when it finished at 1,059.87.

It shed 2.6 percent on Monday, the biggest single day fall since October 14, 2004, when it dived 3.9 percent.

Analysts said the key index was likely to continue falling this week to test the psychologically key 1,050 point level.

Several textile counters fell their 10 percent daily limits to lead most decliners. Garment maker Shanshan Co. Ltd. fell to 3.56 yuan, while knitwear producer Feiya Textile Co. Ltd. slipped to 4.10 yuan.

China's index has dived 15.4 percent so far in 2005, matching in less than five months the fall in 2004 that made it the world's worst-performing major index, hit by a slew of negative factors including Beijing's economic-cooling steps.

"Many investors have trimmed their positions as they expect sustained efforts to cool the economy to hurt corporate bottom lines," said Zheng Weigang, a senior analyst at Shanghai Securities.

Large-caps were also hit, with Sinopec Corp. , Asia's largest refiner and the largest capitalised firm on the mainland bourses, shedding 3.7 percent to 3.66 yuan on Monday.

The stock fell on worries that falling crude prices might trigger price cuts in oil products and erode its bottom line.

No significant cash injection into stockmarket

China sees its ailing stockmarkets as significant to the overall health of its economy but will not be pumping in public funds to prop them up anytime soon.

China Securities and Regulatory Commission (CSRC) chairman Shang Fulin told the Financial Times the problem had to be resolved gradually by shareholders of each company rather than through an ambitious government-led plan.

"The CSRC or any other government authority are not in the position to produce a solution or impose a plan," Shang was quoted as saying.

"We believe that the overhang of non-tradeable shares should be settled between the two types of shareholders by consultation and negotiation."

In April the CSRC chose four companies as a first step to an experimental programme under which the non-tradeable shares would be listed and the state's massive holdings that make up around two-thirds of the stockmarkets more than 400 million dollars in market capitalisation would be gradually reduced.

Shang said the response had been positive, but did not say when the next companies would be named or how quickly the regulator planned to proceed.

The market reacted by hitting fresh six-year lows, highlighting the chronic lack of confidence and continued worries about the impact on liquidity which has dogged the market for years.

Regulators tried to resolve the overhang of the state shares in 2001 to raise funding for China's fledgling social security system but panicked investors sent stocks plunging, forcing authorities to shelve the plan.

Since then, Beijing has repeatedly vowed to fix the problem but has balked at private and institutional investor demands that their interests be protected in any sale program.

At the heart of the matter is vested investors fear that their holdings would be severely diluted unless enough extra cash was available to soak up the additional stock coming into the market.

The CSRC said it would "adjust the size and pace" of flotations as the process moved ahead.

Shang also said the CSRC was discussing a plan with other parts of the government to increase the amount overseas investors could put in China under the Qualified Foreign Institutional Investor scheme.

Shang said investors in listed companies would not be compensated for dilution of their holdings through the sale of state-owned shares.

But owners of non-tradeable shares, in other words the government, should pay a certain amount to shareholders to have the shares listed.




Today's Top News
Top China News

Vice Premier Wu Yi cancels meeting with Koizumi




Shares end at 6-year lows as textiles dive




Local textile sales will offset export curbs




China ready to counter US space plans




China says no timetable on yuan reform




Poultry gets bird flu vaccine in Qinghai