Protesters heckle Laura Bush in Jerusalem
(Agencies)
Updated: 2005-05-23 08:56
JERUSALEM - Laura Bush waded into Middle East tensions on Sunday during chaotic visits to sacred religious sites, where crowds and hecklers grew so rowdy that armed guards had to restrain them.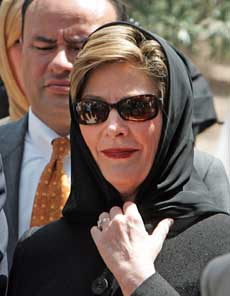 U.S. first lady Laura Bush (C) visits the Dome of the Rock mosque in Jerusalem's Old City May 22, 2005. Jewish and Muslim protesters heckled U.S. first lady Laura Bush when she visited a flashpoint Jerusalem holy site on Sunday during a Middle East goodwill tour. [Reuters]

America's first lady said what she witnessed showed that passions are running high among Palestinians and Israelis. "The United States will do what they can in this process," she said, urging both sides to work for peace.

Before entering the ruins of an 8th-century palace in the West Bank town of Jericho, Mrs. Bush told reporters, "As you can tell from our day here, this is a place of emotion, everywhere we went, from the Western Wall to the Dome of the Rock to here."

At the Western Wall, Judaism's holiest shrine, protesters demanded that the U.S. release of an American Jew imprisoned for spying for Israel. At her stop nearby at the Dome of the Rock, she faced heckling from angry Palestinians. One man yelled, "How dare you come in here! Why your husband kill Muslim?"

As she moved into the Palestinian territory, she said the both sides in the conflict sent her the same message. "We're reminded again of what we all want, what every one of us pray for," she said. "What we all want is peace."

Mrs. Bush placed a note in the Western Wall that she wrote while flying Sunday from Jordan to Israel. She wanted to keep the contents private, a spokeswoman said.

Dozens of protesters stood nearby, shouting, "Free Pollard now." Convicted spy Jonathan Pollard, now serving a life sentence in the United States, was a civilian intelligence analyst for the U.S. Navy.

Mrs. Bush's five-day visit to the Middle East was intended partly to help defuse anti-American sentiment in the region. Strains have arisen because of the U.S.-led war in Iraq and allegations that American interrogators have mistreated Muslim prisoners.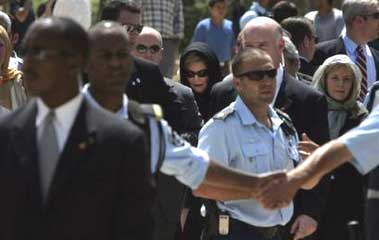 U.S. first lady Laura Bush is surrounded by security as she leaves the Dome of the Rock on Sunday, May 22, 2005 in Jerusalem, Israel. Protesters besieged Laura Bush during her visit Sunday to two of Jerusalem's most sacred sites, with Israeli police locking arms to restrain the crowd and Secret Service agents packed tightly around America's first lady. [AP]

Some visitors that Mrs. Bush encountered near the Dome of the Rock, a mosque on a hilltop compound known to Muslims as Haram as-Sharif and to Jews as Temple Mount, shouted at her in Arabic. "None of you belong in here!" one man yelled as Mrs. Bush and her entourage arrived.

Mrs. Bush removed her shoes as she entered the mosque and walked barefoot on the red carpet. She held a black scarf tightly around her head as she gazed up at the gilded dome and the colorful mosaics.

Some of the women studying inside the mosque were clearly annoyed at the intrusion and waved their fingers at the U.S. entourage. Despite the chaos at both sites, Mrs. Bush kept smiling and said little.

As she left, visitors and media grew so aggressive that Israeli police locked arms and encircled her in a wide human chain. U.S. Secret Service agents packed tightly around her. The police yelled at those who got too close to stay back and pushed them away if they did not listen.

Pollard's supporters also held up signs outside the resident of Israel's president, where Mrs. Bush had tea with his wife, Gila Katsav, and other Israeli women.

No protesters were evident when Mrs. Bush had lunch with leading Palestinian women at a hotel in Jericho, a town that Israel recently turned over to Palestinian control, or when she visited the palace ruins and appealed for peace.

"It will take a lot of baby steps, and I'm sure it will be a few steps backward on the way," she said.

"But I want to encourage the people that I met with earlier and the women that I just met with that the United States will do what they can in this process. It also requires the work of the people here, of the Palestinians and the Israelis to come to the table, obviously. And we'll see."

Behind the recent rise in anti-American sentiment is a now-retracted report in Newsweek that Pentagon investigators had found evidence that interrogators at the U.S. Navy base at Guantanamo Bay, Cuba, placed copies of the Quran, the Muslim holy book, in washrooms to unsettle suspects and flushed a Quran down a toilet.

"We in principle don't reject anyone's visit to the Al Aqsa Mosque (compound), but we see in the visit of Mrs. Bush an attempt to whitewash the face of the United States, after the crimes that the American interrogators had committed when they desecrated the Quran," the militant Islamic Hamas group said in a statement on its Web site.

Adnan Husseini, director of the Islamic Trust that administers the mosque compound, said Mrs. Bush tried to play down the heckling, saying it could have happened anywhere.

Husseini said he told her he hoped President Bush would exert pressure to achieve peace in the Holy Land. Bush is meeting on Thursday at the White House with Palestinian leader Mahmoud Abbas.

Mrs. Bush got the same message during her lunch with the Palestinian women. "She replied, `I will make sure that I convey this message to my husband,'" said Fadia Daibes, an expert on water law and policy who attended the event.

Later Sunday, Mrs. Bush laid a wreath at Yad Vashem, the Israeli memorial for the 6 million Jews killed by the Nazis in the Holocaust of World War II.

She wrote in the visitors' book at the site: "Each life is precious. Each memory calls us to action to honor those lost. We committ ourselves to reject hatred and to teach tolerance and live in peace. Thank you."




Today's Top News
Top World News

Textile makers: Local sales will offset export curbs




Poultry gets bird flu vaccine in Qinghai




Nationwide war on pollutants expands




Lucky miner escapes two pit blasts




Joy as end to Taiwan trip deadlock in sight




Can China build its own Silicon Valley?