Romanian hostages freed in Iraq
(Agencies)
Updated: 2005-05-23 07:59
Three Romanian journalists kidnapped in Iraq were freed on Sunday after two months in captivity, one of the few security breakthroughs since insurgents launched an upsurge in deadly attacks last month.
"It was an operation handled 100 percent by the Romanian secret services, which cooperated in an excellent way," Romanian President Traian Basescu told reporters. He did not elaborate. "They will arrive tomorrow in Bucharest from Baghdad with a military plane."
The abductors had set a deadline for their execution of April 27 unless Romania, a staunch supporter of the United States, withdrew its 800 troops from Iraq, where about 150 foreigners have been kidnapped over the last two years.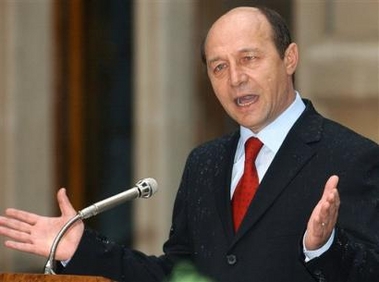 Romanian President Traian Basescu gestures while addressing the media in Bucharest Sunday May 22, 2005. Three Romanian journalists were freed Sunday after nearly two months held hostage in Iraq, President Traian Basescu said. The journalists were in the custody of Romanian authorities and were expected home Monday, he said. [AP]

Prima TV reporter Marie Jeanne Ion, cameraman Sorin Miscoci and reporter for Romania Libera daily Ovidiu Ohanesian, along with their translator Mohamad Munaf, were kidnapped in late March. Romania said they were now under the control of Romanian authorities. Munaf has U.S., Romanian and Iraqi citizenship.

Arab TV channel Al Jazeera aired part of a tape it said it received from the group holding the Romanians in which a masked man sits next to the three while reading from a statement explaining why they were about to free the hostages.

The group decided to release the hostages in response to calls by influential Saudi preacher Salman al-Odeh and Muslims in Romania, Jazeera said.

Several high-profile kidnappings in recent weeks have deepened a security crisis that has deteriorated sharply since a new Iraq government was formed late last month.

Mainly Sunni Muslim insurgents have escalated attacks on officials and security forces since a Shi'ite-dominated government was sworn in, handing power to Iraq's majority religious sect for the first time in decades.

Tit-for-tat attacks between Sunnis and Shi'ites have raised fears that the violence could spark civil war.

Basescu said he was deeply worried earlier this week when the presidency received a photo showing Ion wearing orange overalls, which experts generally describe as "the color of death," as abductors had in the past dressed hostages in the color to show their death threats were serious.

OTHERS STILL HELD

French journalist Florence Aubenas was taken hostage in Iraq in January and the French government welcomed the Romanians' release:

"We're very happy for the liberation of the three journalists, for them, their families and press freedom," French Foreign Minister Michel Barnier told Reuters in Brussels.

Other foreign captives remain unaccounted for at a time when insurgents and militants are stepping up violence and exerting more pressure on American allies in Iraq to withdraw their troops by threatening to kill their abducted nationals.

Militants holding Australian citizen Douglas Wood, 63, who is married to an American, have threatened to kill him unless Australia starts withdrawing its troops from Iraq. Their deadline has passed, with no word on Wood's fate.

An Islamic militant group says it captured a badly wounded Japanese citizen -- Akihiko Saito, a 44-year-old security consultant and veteran of the French Foreign Legion -- in an ambush near a U.S. base in Iraq earlier this month.

The group showed a video of an ambush of a convoy that it said led to the capture of Saito. Others who were also captured and condemned as "agents of the crusaders" were dragged out of their vehicles, lined up on the ground and shot repeatedly.

Startling videos of shaken hostages pleading for their lives are part of a bloody guerrilla campaign to destabilize the country, where thousands of Iraqis have also been abducted.

Iraq's government wants to convince Iraqis and foreign countries that its security forces are improving and will eventually take over from about 140,000 U.S. troops.

But mounting violence that has killed more than 500 people since late April suggests insurgents are getting stronger, carrying out almost daily suicide bombings and shootings that have fueled sectarian tensions.

Gunmen shot dead a senior official in Iraq's trade ministry as he was being driven to work in Baghdad on Sunday, police said, the latest in a series of assassinations of senior government employees.

Ali Mousa Salman, a director general at the ministry, was killed after leaving his home in central Baghdad. His driver was also killed and three other people were wounded.

In recent months, more than a dozen senior government officials have been shot dead in Baghdad in well planned attacks.

At least five Iraqi commandos were killed late on Saturday in an ambush in the town of Baiji, 180 km (112 miles) north of the capital, Iraqi police said.




Today's Top News
Top World News

Poultry gets bird flu vaccine in Qinghai plateau




Hu: Diaglogue needed for difficult ties




Nationwide war on pollutants expands




Researchers reach top of the world for survey




Lucky miner escapes two pit blasts




Joy as end to Taiwan trip deadlock in sight