Sun prints Saddam photos, blasts critics
(Agencies)
Updated: 2005-05-22 15:29
LONDON - Rubbing salt in the wounds caused by publishing prison photographs of a half-naked Saddam Hussein, a British tabloid released another shot of Iraq's ex-dictator as the US military launched an investigation into how the pictures got out.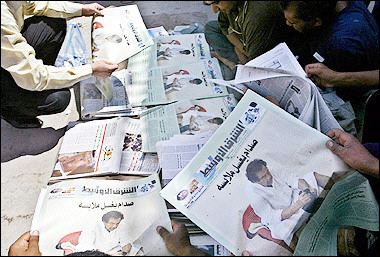 Iraqis look at the front page of an Arab daily newspaper showing a picture of former dictator Saddam Hussein washing his clothes, at a vendor's stall along street pavement in Baghdad May 21. The US military is investigating how photographs of a jailed Saddam Hussein hit tabloids in New York and London as a British newspaper released a new shot of the former dictator amid an outcry the move violated the Geneva Conventions. [AFP]

The Sun newspaper -- Britain's best-selling daily -- printed a further photograph of Saddam, viewed through a coil of barbed wire, wearing a long white tunic-like shirt and walking, seemingly in conversation with someone or possibly praying.

That followed Friday's front-page cover of a bare-chested Saddam standing in his underwear with the headline "Tyrant's in his pants," using the British term for underwear briefs.

The Sun also quoted an unidentified "senior British military source" as saying that the top brass at the British defence ministry and the US Pentagon were secretly pleased by the media exposure.

While the Pentagon publicly expressed anger about the pictures, "commanders on the ground will be secretly quite pleased. It is a morale blow to the resistance to see their great leader so humbled," the source said, according to the Sun.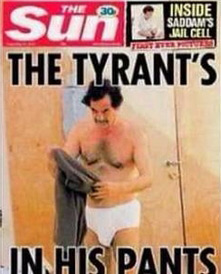 A front page picture of the Sun newspaper shows imprisoned former Iraqi leader Saddam Hussein in his underpants and has other pictures inside of various aspects of his life in prison. [Reuters]

The pictures, which also ran in the New York Post, another tabloid owned by Australian-born media mogul Rupert Murdoch, immediately drew protests from human rights groups and Muslim groups, who complained they violated the Geneva Convention over the treatment of prisoners.

In Baghdad, Sunni Muslim clerics called the photos "humiliating."

"There are limits that should not be overstepped whoever the person and whatever his past," said cleric Mohammad Ali Mashhadani.

The Sun on Saturday headlined "Bush probes Saddam's pants", in an irreverent play on US President George W. Bush's pledge on Friday "to get to the bottom of the investigation," in the words of a White House spokesman.

Speaking to reporters himself, Bush did not condemn the photographs and said he doubted they would stoke the anger of Iraqi insurgents.

"I don't think a photo inspires murders," Bush said.

Billed as a world exclusive, the Sun said it got the pictures from American military sources.

Saturday's edition also included a photo of the 68-year-old former Iraqi leader washing his clothes by hand in a bucket.

The Sun's managing editor, Graham Dudman, defended the paper's decision to run the photos of Saddam, whom he compared with Germany's Nazi leader.

"He's not been mistreated. He's washing his trousers. This is a modern-day Adolf Hitler. Please don't ask us to feel sorry for him", Dudman said in a statement Friday.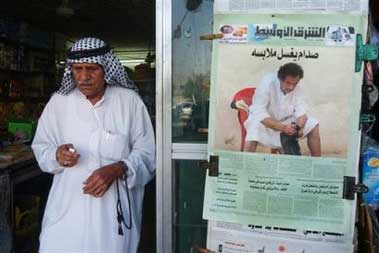 A customer walks out from a general store past a copy of the Saturday edition of Iraq's Asharq al-Awsat newspaper, showing a picture of Saddam Hussein seated in a white robe which was originally used on Friday's front page of Britain's mass circulation tabloid newspaper the Sun, in central Baghdad, Iraq Saturday, May 21. [AP]

The paper also ran photos of other detainees including Saddam's cousin Ali Hassan al-Majid, known as "Chemical Ali" for his role in gas attacks during an offensive against Iraqi Kurds in 1987.

He was pictured holding a towel and apparently struggling to get up from a chair, using a walking stick.

The tabloid also showed a photo of Dr Huda Salih Mahdi Ammash, a US-educated microbiologist dubbed "Mrs Anthrax" and "Chemical Sally" for her alleged involvement with Saddam's weapons of mass destruction programme.

Lawyers representing Saddam said Friday they planned to sue the Sun after it published the first set of photos of the deposed Iraqi dictator, Al-Jazeera television reported, quoting the head of the defense team.

A Pentagon spokesman said it appeared that the pictures were taken more than a year ago. If true, that means they were taken at a time when the US military had exclusive custody of Saddam.

Iraq took over custody of Saddam after it regained sovereignty last year, but he remains under US military control.





Today's Top News
Top World News

China takes emergency measures to prevent bird flu




EU not regard China as a threat - Mandelson




Hebei mine toll rises to 40, 10 still missing




Tibetan antelope leads Olympic mascot race




Greenspan: Yuan revamp unlikely to help US




Sun prints Saddam photos, blasts critics