China bans meals served on naked women
(Agencies)
Updated: 2005-05-22 13:58
China's State Administration of Industry and Commerce issued a notice this weekend banning meals served on naked bodies, officially canceling the service offered by a restaurant in southwestern China that served sushi on unclothed female university students, a Beijing newspaper reported Sunday.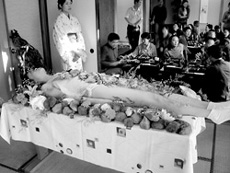 A woman lies on a table with meals spreaded on her naked body in this file photo. China's market regulators issued an order on May 20 to ban this practice, saying it's an insult to human dignity. [file]

The Saturday pronouncement forbids the service because it "insults people's moral quality," according to the Beijing Times. Serving food on women's bodies also "spreads commercial activity with poor culture," the paper said, citing the administration's notice.

In April 2004, Chinese media reported that the Hefeng Village Huaishi Cuisine Restaurant in Kunming, capital of Yunnan Province, was serving sushi and other Japanese food on two naked university students as they lay on their backs.

Customers would pay 1,000 yuan (about $120) each for the meal after making reservations up to three days in advance, media said.

Flowers, shells and rocks also adorned the women's bodies, according to a photo in the Beijing paper.

The women lay calmly as people ate, a restaurant manager told Kunming media, which said this style of dining existed in "ancient Japan." ADVERTISEMENT



After the reports came out in April 2004, raising questions among more conservative Kunming residents, a restaurant staff member said the service had been cancelled.

The State Administration of Industry and Commerce notice bars nudity for other dining and entertainment purposes, including "meals on breasts" served in Changsha, Hunan province, and naked models used in an art exhibit at Wuyi Mountain in southern China.





Today's Top News
Top China News

China takes emergency measures to prevent bird flu




EU not regard China as a threat - Mandelson




Death toll rises to 30 in Hebei coal mine blast




15 Chinese atop Everest for measurement




Tibetan antelope leads Olympic mascot race




Paper prints more photos of Saddam in jail