Tibetan antelope leads Olympic mascot race
(Xinhua)
Updated: 2005-05-22 11:49
The Tibetan Antelope is leading in the race for the 2008 Beijing Olympic mascot, according to a survey released by the China Wild Animal Protection Association.
The 2008 Beijing Olympic mascot will be announced on June 1.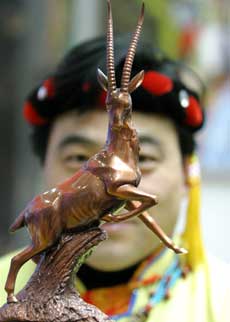 A carving of the Tibetan antelope is one display in a show in Beijing March 27, 2005 as activities lobby hard to select antelope as the 2008 Beijing Olympic Games mascot. [newsphoto]

Besides the Tibetan Antelope, the other major candidates are the giant panda, the Chinese tiger, the golden monkey and the red-crowned crane. But the Tibetan Antelope is recognized by many people to be the best choice.

The Tibetan Antelope lives in the Qinghai-Tibetan Plateau at an altitude between 4,000 and 5,500 meters. The animal portrays the Olympic spirit very well and it can represent China to the world. It lives at high altitudes, which proves its strong body. Besides,it is good at sports-it runs at a speed of 70-100km/h.

Unfortunately, in the 1980's and 1990's, some 20,000 Tibetan Antelopes were killed by smugglers each year to get the animals' valuable hair for shawls. A shawl of that kind can be sold for as much as 30,000 US dollars.

Now the Tibetan Antelope is protected by the government, and its number has bounced back to 50,000 from 15,000 in 1998. The campaign is thought to be a good way to draw attention of more people to better protect the animal.

As the home of the candidate Tibetan Antelope, Qinghai Provincein northwest China is pulling out all the stops to get the plateau animal chosen. During the Labor Day Holiday, 150 private vehicles from 22 provinces and regions of China, including Hong Kong and Macao, gathered to support the bid; many visitors volunteered to sign for the bid, too.

A campaign to compose the song for the Tibetan Antelope is now in progress. "The spirit of the Tibetan Antelope should be the spirit of people in Qinghai. The campaign of the bid is also a good way to publicize the less developed province," said Song Xiuyan, the provincial governor.

The province first sent the application to the Beijing Olympic organizing committee, which will make the choice, in 2003. It has created six Tibetan Antelope designs for consideration by the committee. A special team was set up by the province government tol ead the campaign in January 2005. It has been to many key cities in China to seek support for the bid, including Beijing, Shanghai and Guangzhou.






Today's Top News
Top China News

China takes emergency measures to prevent bird flu




EU not regard China as a threat - Mandelson




Death toll rises to 30 in Hebei coal mine blast




15 Chinese atop Qomolangma for measurement




Greenspan: Yuan revamp unlikely to help US




Paper prints more photos of Saddam in jail