EU not desired to reimpose quotas on China's textiles
(Agencies)
Updated: 2005-05-22 10:57
DEAD SEA, Jordan - The European Union has no desire to turn back the clock and start imposing quotas on China, but needs to ensure that a surge in textile exports is managed, the 25-nation bloc's trade chief said on Saturday.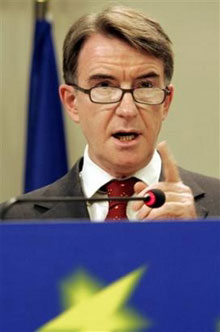 European Commissioner for Trade Peter Mandelson points his finger during a media conference at the European Commission headquarters in Brussels in this May 17, 2005 photo. He said on May 21 at the World Economic Forum in Jordan that the EU has no desire to impose quotas on China's textiles. [AP]

Trade Commissioner Peter Mandelson told a World Economic Forum regional meeting in Jordan he was not concerned about the long-term impact on trade of China's red-hot economy.

"I don't regard China as a threat in the medium or long term," he said. "I regard China as an opportunity."

But he said a flood of cheap textile and clothing shipments since a global quotas regime was abolished on January 1 was different.

"You know that in the short term the impact is going to be considerable," he said. "That transition needs to be managed."

Mandelson was responding to a question about why Middle East countries should believe EU calls for the region to become a dynamic trading partner when the bloc was seeking to negotiate curbs on various Chinese textile goods.

The United States has responded to the sharp rise in Chinese imports by imposing emergency curbs on trousers, underwear, shirts and yarn.

"I don't want to turn back the clock. I don't want to reintroduce textile quotas," Mandelson said.

"But we have to take steps, hopefully through negotiations ... to make sure we move rather more smoothly."

China sought on Friday to ease some of the tension surrounding its exports and the increasingly venomous trade dispute with the United States and the EU.

It said it would increase tariffs on range of textile imports, including trousers, T-shirts and underwear, on June 1. Earlier tariff levels proved too small to stem an export surge.

Mandelson made no reference to the move by China in his comments on Saturday. He expressed caution about it on Friday.

"I welcome what they are doing but I will need to look carefully at its likely effect and whether it will be sufficient," he told Reuters at the Dead Sea in Jordan.

Mandelson is due to meet China's textile negotiator Gao Hucheng next week in Brussels.





Today's Top News
Top World News

EU not desired to reimpose quotas on China's textiles




China takes emergency measures on bird flu




Hebei mine toll rises to 40, 10 still missing




Tibetan antelope leads Olympic mascot race




Greenspan: Yuan revamp unlikely to help US




Sun prints Saddam photos, blasts critics