Paper prints more photos of Saddam in jail
(Agencies)
Updated: 2005-05-22 08:46
BAGHDAD, Iraq - A British tabloid published more surreptitiously taken prison pictures of Saddam Hussein on Saturday, and Iraq's once-dominant Sunni Muslim minority sought to break out of its deepening isolation by forming an alliance of tribal, political and religious groups.
But the new Sunni group's first act, a demand the interior minister resign, threatened to fuel sectarian tensions following the recent killing of several Sunni clerics that they have blamed on Shiite-dominated security forces.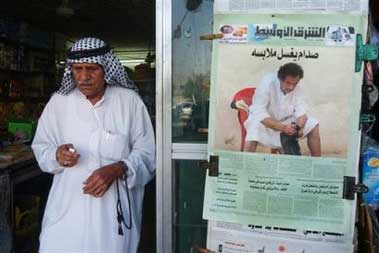 A customer walks out from a general store past a copy of the Saturday edition of Iraq's Asharq al-Awsat newspaper, showing a picture of Saddam Hussein seated in a white robe which was originally used on Friday's front page of Britain's mass circulation tabloid newspaper the Sun, in central Baghdad, Iraq Saturday, May 21. [AP]

Ten clerics, both Sunni and Shiite, have been killed by gunmen in the past two weeks. Sunnis dominated Iraq under Saddam, but Shiites comprise the majority and hold the bulk of power in the new government.

Interior Minister Bayan Jabr, a Shiite, denied the government was involved in the killings and said he would not step down.

"No one has the right to call for the resignation of a minister, only parliament can do that. Those who didn't get one vote have no right to ask," Jabr said, referring to the fact that many Sunnis stayed away from Jan. 30 elections either in protest or fear of attacks.

Eight members of an elite Interior Ministry force known as the Wolf Brigade, which at least one Sunni leader has implicated in sectarian killings, died in a pre-dawn ambush on their 20-vehicle convoy in downtown Beiji, 155 miles north of Baghdad, police 1st Lt. Nadar Adil said.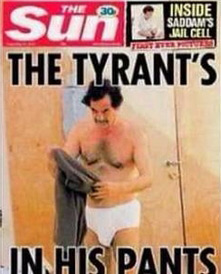 A front page picture of the Sun newspaper shows imprisoned former Iraqi leader Saddam Hussein in his underpants and has other pictures inside of various aspects of his life in prison. [Reuters]

Another four police officers were killed by a roadside bomb in the predominantly Sunni city of Samarra, 60 miles north of Baghdad, police Lt. Qassim Mohammed said.

Sectarian tension has been high throughout the country and Sunni extremists are believed to be driving Iraq's relentless insurgency, with more than 530 people killed since Iraq's Shiite-led government was announced April 28.

Such violence also has taken its toll on reconstruction efforts and insurgents targeting oil lines, electricity plants and other infrastructure projects have delayed U.S. plans to invest $21 billion in resources for the country's reconstruction, a U.S. official said.

Bill Taylor, director of the U.S.-led Iraq Reconstruction Management Office, said Saturday that ceaseless attacks — the military has said they average 70 a day — have led to skyrocketing security demands, with up to 16 percent of all project costs now being spent on protection.

So far $7.5 billion of this has been paid to contractors to perform works. Rebuilding, training and equipping Iraq's own security forces will eat up $5 billion alone, he added.

"We are paying more for security than we should," Taylor said. "The fact is that the security is not good."

There were fears that the publication Friday and Saturday of pictures showing the imprisoned Saddam, including one where he is clad only in his underwear, could further fuel anti-American sentiment.

The new pictures in Britain's The Sun included one of Saddam seen through barbed wire wearing a white Arab robe, and another of Ali Hassan al-Majid, better known as "Chemical Ali" for his alleged role in gassing Kurds, in a bathrobe and holding a towel.

The newspaper also ran pictures of Huda Salih Mahdi Ammash, a biotech researcher dubbed "Mrs. Anthrax," who got her nickname for her alleged work trying to develop biological weapons for Saddam.

The Sun said the photos were provided by "U.S. military sources" it did not identify who hoped their release would deal a "body blow" to the insurgency.

The U.S. military condemned publication of the photos and ordered an investigation into the leak.

The newly created Sunni alliance, which has not adopted a name, will open its first office in Baghdad with branches later in other cities.

"The decisions taken by this body will be shared by all Sunni parties and movements, Islamists, independents, merchants, military officers, heads of tribes and workers," said Adnan al-Duleimi, the head of the Sunni Endowment.

The charitable organization was one of three main Sunni groups to back the formation of the new organization. The others were the influential Association of Muslim Scholars and the Iraqi Islamic Party.

"We decided to establish this Sunni political and religious organization to speak on behalf the Arab Sunnis. We all have to work for the sake of Iraq to get this country out of this hard situation," said Sheik Lawrence Abid Ibrahim al-Hardan, 47, who is from restive Anbar province west of Baghdad.

Sunnis said they hope the organization will give them more of a say in Shiite-dominated Iraq and help bring the minority together ahead of new elections in December.

"We made a big mistake when we didn't take part in the elections and that was because we didn't have a unified and clear religious and political organization," said Sheik Salim Assad Abdullah al-Dhahir, 55.

Sunnis dominated under Saddam's Baathist regime but make up just 15 percent to 20 percent of Iraq's 26 million people and most stayed away from the polls that led to the nation's first democratically elected government.

Shiites, who comprise 60 percent of the population, emerged from the Jan. 30 elections with the biggest bloc in the National Assembly. They have allied with Kurds while seeking to include Sunnis in the government.

"We condemn raids and detention done under the cover of the law against imams and mosques. We demand an independent committee be formed to verify if detainees were killed or tortured and demand the resignation of the interior minister," the Sunnis said in a statement announcing the formation of their organization.

The government has denied involvement in the killings but said some attackers have worn Iraqi army uniforms when seizing their victims and declared Iraqi troops can no longer enter mosques, churches or universities.

"No one has the right to call for the resignation of a minister, only parliament can do that. Those who didn't get one vote have no right to ask," Jabr said, referring to the fact that many Sunnis stayed away from Jan. 30 elections either in protest or fear of attacks.





Today's Top News
Top World News

China takes emergency measures to prevent bird flu




EU not regard China as a threat - Mandelson




Greenspan: Yuan revamp unlikely to help US




Death toll rises to 30 in Hebei coal mine blast




Paper prints more photos of Saddam in jail




Mainland offers tourism good-will for Taiwan