Koizumi: War shrine visit private
(Agencies)
Updated: 2005-05-21 14:21
Japan's Prime Minister Junichiro Koizumi says his pilgrimages to a war shrine are made as a private citizen amid demands by China he end visits to the sanctuary associated with militarism.
"I have been saying that I am not bothered whether the visits are private or official," Koizumi told a parliamentary committee. "I have been paying homage, not as a duty of the prime minister, but out of my personal belief."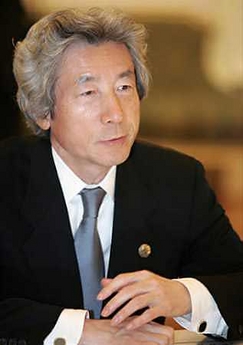 Japan's Prime Minister Junichiro Koizumi speaks to the Russia's President Vladimir Putin during talks in Moscow, in this May 9, 2005 file photo. [Reuters]
When pressed on the issue by the opposition, he said: "Junichiro Koizumi, who is the prime minister, is making the visits as an individual."
The remarks were interpreted by Japanese media as a conciliatory gesture toward Beijing after Koizumi outraged China by indicating he would keep visiting the Yasukuni shrine in central Tokyo.
The Shinto sanctuary is dedicated to the 2.5 million Japanese who died in the country's wars.
The names of 14 top war criminals from World War II are enshrined there, including those of seven hanged for war crimes, among them wartime premier Hideki Tojo.
Koizumi had earlier been ambiguous about whether he visits Yasukuni in an official or private capacity. Critics point out he travels in an official car and signs his name in the guest book with the title of prime minister.
The prime minister has visited the Yasukuni shrine each year since taking office in 2001, with his last trip there on January 1, 2004.
Koizumi visited the shrine a number of times before becoming premier as well. He says he is showing respect to the dead and opposition to war, but the pilgrimages are also popular among conservative supporters of his party.
The visits have been formally protested by China and South Korea, which suffered bloody occupations by Japan up to 1945.
A top lawmaker of Koizumi's party called on him Friday to stick to his beliefs on the pilgrimage.
"The prime minister should decide by his own judgment" on visiting Yasukuni, Liberal Democratic Party secretary general Tsutomu Takebe said.
"This is not an issue that would be solved if he stops visiting there in the face of protests from other countries," he was quoted as saying by Jiji Press news agency.
But Takenori Kanzaki, who heads Koizumi's Buddhist-oriented coalition partner New Komeito, was more cautious.
"Given Japan's relations with China and South Korea, we want (Koizumi) to act not only out of his personal belief but also by taking a broad view of the situation," he said.
Speaking in another parliamentary committee Monday, Koizumi defended his visits by saying Japan was staunchly pacifist six decades after the war and that other countries did not have the right to tell Japanese how to mourn.
But Chinese foreign ministry spokesman Kong Quan said a day later: "It is not a question of worshipping the dead, but rather of how to face up to history."
Koizumi is due on Monday to meet with Chinese Vice Premier Wu Yi, an experienced negotiator who is on a goodwill visit to Japan.
She has tried to downplay disputes between the two nations during her trip, instead proposing greater commercial cooperation, including a free-trade pact.
Prime Minister Lee Hsien Loong of Singapore, which suffered under Japanese rule but in recent times has enjoyed warm relations with Tokyo, this week added his voice to those of leaders urging Koizumi not to return to Yasukuni.
Today's Top News
Top World News

Export textile tariffs rocket to 400 per cent




Bush pledges probe into Saddam pictures




Greenspan: China revaluation won't help




Mainland offers tourism good-will for Taiwan




Koizumi says he visits shrine as a person




44 remain missing in Hebei coal mine blast