Greenspan: Yuan revamp unlikely to help US
(Agencies)
Updated: 2005-05-21 14:07
America's bloated trade deficits probably wouldn't be helped by China revamping its currency system as the Bush administration has been pressing Beijing to do, Federal Reserve Chairman Alan Greenspan said Friday.
Greenspan's comments, during a question-and-answer session following a speech he delivered to the Economic Club of New York, come as the administration over the past week has increased pressure on China to change its currency and trade practices.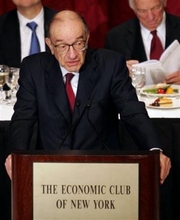 Federal Reserve Chairman Alan Greenspan gestures while speaking during a meeting of The Economic Club of New York Friday May 20, 2005 in New York.[AP]
The United States' trade deficit ballooned to a record $617 billion last year, including a $162 billion deficit just with China, the highest ever with a single country.
A move by China to revalue its currency "does not follow that that will lower our overall trade balance," Greenspan said. "Indeed, it's probably quite unlikely."
That's because companies are likely to turn to other countries, such as Thailand or Malaysia for goods, rather than U.S. producers. "So essentially what we will find is we're importing from a different area, but we will be importing the same goods," Greenspan said.
For two years, the administration has been prodding China to stop linking its currency, the yuan, to the U.S. dollar, and instead move to a more flexible currency system.
But under pressure from Democratic and Republicans lawmakers in Congress, U.S. manufacturers and others, the administration has hardened its stance over the last week.
It announced new limits on the amount of clothing that China can ship to the United States. It threatened to brand China as a currency manipulator unless it changed its currency policies. And, the government appointed a special envoy to work with China on the these issues.
Greenspan said that at some point China will let the yuan rise against the U.S. dollar because its current system represents an increasing threat, including higher inflation, to the Chinese economy. In pushing for China to make a change, the administration has laid out a similar case.
"China's rigid currency regime has become highly distortionary," Treasury Secretary John Snow said earlier this week. "It poses risks to the health of the Chinese economy" by sowing the seeds for inflation and poses risks to the global economy at large, Snow said.
American manufacturers contend that China's system is hurting U.S. exports and contributing to job losses at U.S. factories. Manufacturers say the yuan is undervalued by as much as 40 percent. The weaker yuan makes Chinese goods cheaper in the United States and American products more expensive in China.
Letting the yuan move higher against the dollar would increase prices American shoppers pay for Chinese goods in the United States, Greenspan said. "The effect will be a rise in domestic price in the United States," he said.
The Chinese, who have bristled at pressure from Washington, say they are making progress on changing their currency system. They say they need more time to shore up their banking system so it can withstand the volatility resulting from a flexible currency.
On Friday, China announced new tariffs on its surging textile exports, a concession aimed at easing a clash with the United States and Europe over a flood of Chinese goods pouring into their markets.
The move didn't appear to change the administration's mind about imposing quotas on the amount of some Chinese clothing shipped to the United States.
Consultations between the United States and China on the U.S. limits "will be undertaken by the end of May," said Commerce Department spokesman Dan Nelson. "The consultations represent an opportunity for discussion with the Chinese government of the measures just announced."
On other issues, Greenspan said he didn't believe the housing market was in danger of a "national bubble" that could pop. Home prices, which have been sharply rising over the last several year, are "going to soon simmer down," he predicted.
Today's Top News
Top China News

China takes emergency measures to prevent bird flu




EU not regard China as a threat - Mandelson




Greenspan: Yuan revamp unlikely to help US




Death toll rises to 30 in Hebei coal mine blast




Paper prints more photos of Saddam in jail




Mainland offers tourism good-will for Taiwan