U.S. considering food aid for North Korea
(Agencies)
Updated: 2005-05-21 09:43
The United States said on Friday it is considering whether to give North Korea food aid this year, dangling the possibility as it seeks to revive talks on ending North Korea's pursuit of nuclear weapons.
However, the State Department repeated its position that such aid is not tied to political factors like whether North Korea will resume six-party talks designed to persuade it to give up its nuclear weapons ambitions.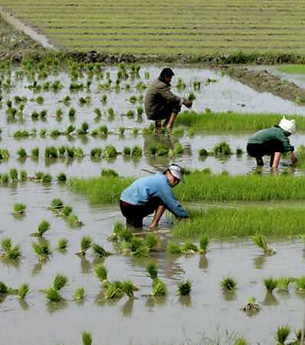 North Korean farmers work in rice fields in the North Korean city of Kaesong May 17, 2005. [Reuters]
"It's wrong to say that we've halted it. We completed last year's shipment of 50,000 tons and we're considering what we might want to do this year," State Department spokesman Richard Boucher told reporters.
He was commenting on a Wall Street Journal report that Washington had halted all food aid shipments to North Korea so far this year and may not provide any through the end of 2005.
Boucher said the United States weighed three factors in deciding whether to give the North Korea food -- its need, the ability of donors to monitor that food gets to those who need it, and the competing needs of other regions.
The United States has long criticized North Korea, which accuses Washington of harboring hostile designs against it, for not giving sufficient access to monitors.
Boucher said monitoring had improved in recent years, but there are still suspicions that North Korea may siphon off some of the aid for elite government or military officials.
Washington has until the end of the fiscal year on Sept. 30 to use money from the current budget for such aid, Boucher said. In theory, it could use money from next year's budget to pay for aid in the October-December quarter.
Today's Top News
Top World News

Export textile tariffs rocket to 400 per cent




Bush pledges probe into Saddam pictures




Mainland offers tourism good-will for Taiwan




44 remain missing in Hebei coal mine blast




Sacked soccer coach wins wide support




Old soldier does penance for past atrocities