Old soldier does penance for past atrocities
By Jiao Xiaoyang and Huo Yongzhe (China Daily)
Updated: 2005-05-21 06:55
SHANGHAI: "We went toward the Chinese captives bound in ropes, with rifles in our hands, the bayonets shining against the sunset. One Chinese captive faced me with his hands tied behind his back, smiling. ... I, trembling, stabbed him in the chest, and he howled and fell into the tide of the Yangtze River ..."
This is an episode in the autobiography of Honda Tatsutaro, a former Japanese soldier, recounting how Japanese invading troops killed Chinese captives during the War of Resistance Against Japan.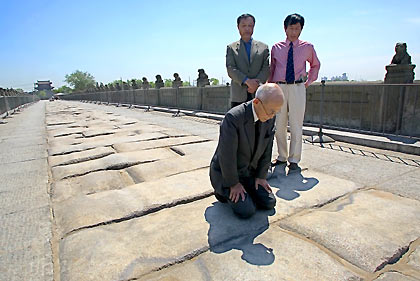 Honda Tatsutaro, a 91-year-old former Japanese soldier who joined the aggression war against China, knelt yesterday on Marco Polo Bridge in southwest Beijing to express his apology for killing a Chinese prisoner of war in August 1939 in Jintan County, East China's Jiangsu Province. [Xinhua]
On Friday the now 91-year-old Tatsutaro arrived in Shanghai and knelt at the city's war memorial in apology and penance for wartime atrocities.
"I must come to China to apologize before it is too late," said Tatsutaro. "I do not want to take my sins into the grave."
After dedicating some lines of poetry to the Chinese war dead on Friday afternoon, Tatsutaro knelt before a wall at the Memorial to the Anti-Japanese War in Shanghai, and prayed.
He then stood up, and turned to face the audience before reading several articles in Japan's constitution that uphold peace.
After that, the repentant Tatsutaro criticized the Japanese Government led by Japanese Prime Minister Junichiro Koizumi.
"The constitution forbids waging wars, and it's been so many years of peace," said Tatsutaro.
"It is unacceptable that Koizumi attempts to change the constitution on the excuse of self defence," he said.
"I will defend the constitution with my life."
Lasting three months in late 1937, the war was fought in a suburb of Shanghai. Involving about 1 million soldiers, it was the first major combat between China and Japan during the war.
Tatsutaro joined troops stationed near Nanjing, China's capital at that time. Japanese troops massacred more than 300,000 locals after conquering the city in 1937.
"He is 91, and nobody forced him to come," said Xu Qin, a staff member at the memorial who accompanied Tatsutaro during his visit.
"We would forgive him even if he did not kneel down, and his behaviour here is evidence of his apology," said Xu.
"I was supporting him by the hand all the way. His hand was warm and I think I can understand his heart," Xu added.
(China Daily 05/21/2005 page2)
Today's Top News
Top China News

Export textile tariffs rocket to 400 per cent




Mainland offers tourism good-will for Taiwan




44 remain missing in Hebei coal mine blast




Sacked soccer coach wins wide support




Old soldier does penance for past atrocities




Bush pledges probe into Saddam pictures