Koizumi eyes China ties, defends shrine visits
(Agencies)
Updated: 2005-05-20 15:11
TOKYO - Prime Minister Junichiro Koizumi said on Friday that Japan should build cooperative relations with China but he defended his visits to a shrine for war dead that is seen by Beijing as a symbol Tokyo's past militarism.
Koizumi made the comments ahead of his meeting on Monday with Chinese Vice Premier Wu Yi, who is in Japan on a week-long visit.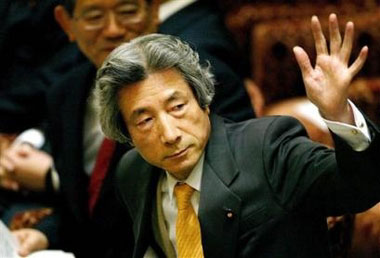 Japan's Prime Minister Junichiro Koizumi raises a hand before he answers oppositions' questions at the Parliamentary committee meeting at the National Diet in Tokyo May 16, 2005. Koizumi, speaking at the meeting, said he saw nothing wrong with his visits to Yasukuni shrine, which honors war dead including convicted war criminals. [AP]

"The leaders of the two countries share the view that Japan-China relations are important," Koizumi told parliament.

"Japan and China need to cooperate with each other not only in the context of bilateral ties but also in the international arena."

Relations have been troubled by a series of disputes including anger in China at Koizumi's annual pilgrimage to Tokyo's Yasukuni Shrine, where convicted war criminals are honored along with Japan's 2.5 million war dead.

Anti-Japan protests erupted in across China last month, sparked by Tokyo's approval of a school textbook that China and many others say whitewashes its wartime past, and by Japan's bid for a permanent seat on the U.N. Security Council.

On Friday, Koizumi reiterated that his visits to the Shinto shrine in Tokyo were to pay respect to those who died and to vow that Japan would never again wage war.

"The criticism that this glorifies war is not right," Koizumi said.

Koizumi has avoided visiting the shrine on August 15, the anniversary of Japan's 1945 surrender and an emotive date in the region, but his visits have nonetheless infuriated China and other Asian neighbors.

A newspaper poll published on Wednesday showed Japanese voters were almost evenly split over whether Koizumi should keep visiting the shrine.

Despite the simmering diplomatic disputes, economic ties are tight, and Wu has made soothing remarks during her visit this week to a World Expo in Aichi, central Japan.

"The Aichi Expo, which reflects so well its theme of loving the earth and nature, reminds us once again of the Japanese people's wisdom and creativity," Kyodo news agency quoted her as saying on Thursday at a China national day event at the expo.

Bilateral trade hit nearly $170 billion last year, when Japan's trade with China and Hong Kong exceeded its trade with the United States -- Japan's biggest trading partner for decades -- for the first time.

China's rapid economic growth -- 9.5 percent in 2004 -- has created huge demand for imported goods, including high-tech goods and products such as steel from Japan.





Today's Top News
Top World News

Two bodies found, 49 missing in Hebei mine blasts




FM express outrage at Diaoyu Islands claim




Hanke: It would be 'foolish' to revalue yuan




Koizumi eyes China ties, defends shrine visits




US business chief optimistic over yuan reform




China to raise export tariffs on some clothing