Hanke: It would be 'foolish' to revalue yuan
(bloomberg)
Updated: 2005-05-20 14:43

China would be "foolish" to let the yuan strengthen, said Steve Hanke, an economics professor at Johns Hopkins University. Failure to do so may lead to a trade war with the U.S., according to Goldman Sachs Group Inc.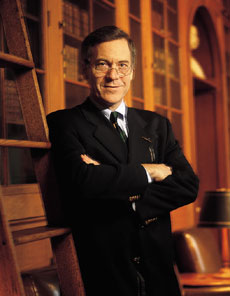 Steve H. Hanke is a professor of Applied Economics at the Johns Hopkins University in Baltimore. He said it would be foolish if China revalues its currency yuan. [cato.org]

"There is no way China is going to abandon" the yuan's peg to the dollar, said Hanke, who has advised governments from Indonesia to Argentina on currency policy. ``China would be foolish to consider revaluing,'' he said in an interview in Washington May 19.

China is under pressure from the Bush administration to ease the fixed exchange rate of the yuan, which has been pegged at about 8.3 to the dollar for a decade. The Commerce Department on May 18 sided with petitions from U.S. textile companies to cap imports of Chinese clothing and yarn, a day after the Treasury Department said China risks being branded a currency manipulator.

Hanke is in the minority. Treasury Secretary John Snow, Federal Reserve Chairman Alan Greenspan, Japanese Vice Finance Minister Hiroshi Watanabe and banks including Goldman, Deutsche Bank AG and UBS AG all say China is preparing to alter course.

"The probability of them doing nothing is small, but it's probably risen slightly," Jim O'Neill, head of global economic research at Goldman, said in an interview in London yesterday. "It would be a dangerous path because by the end of the year we'd have trade sanctions."

Sovereign Right

Premier Wen Jiabao said China won't bow to pressure from foreign countries to revalue the yuan and U.S. moves to block Chinese textile imports may damage relations, state news agency Xinhua reported on May 16. The exchange rate "is the sovereign right of China," Wen said.

Wen, President Hu Jintao and People's Bank of China Governor Zhou Xiaochuan are among Chinese officials who have said China will make its exchange rate more flexible without being specific or indicating a timetable.

"We should listen to what the premier, Wen, has to say," said O'Neill, who has predicted for at least a year that China may ease the yuan peg at any time. "My guess is that if it were up to the PBOC, China would have moved to a more flexible currency some time ago."

Traders increased bets China will let its currency appreciate within a year. The yuan would gain to 7.8220 against the dollar in a year if freely traded from the pegged rate of 8.2770, a gain of 5.8 percent, based on the forward contracts as of 12:35 p.m. in Hong Kong.

Hong Kong Ceiling

The contracts allow investors to bet on the value of a currency that isn't fully convertible or hedge investments denominated in it.

Wagers on an appreciation increased yesterday after the Hong Kong Monetary Authority said on May 18 it will limit gains in its currency. The ceiling is aimed at curbing speculative purchases of China-related assets by investors betting their investment will gain should China revalue the yuan.

Such speculation is misplaced, said 62-year-old Hanke, who advised former Indonesian president Suharto when the ex-general considered pegging the rupiah to the dollar in 1998. Suharto quit in May of that year during Indonesia's worst recession.

Letting the yuan appreciate may curb China's exports and spark deflation, said Hanke, who is based in Baltimore.

Goldman's Prediction

Should China revalue the yuan by 25 percent, it would lead to 20 percent deflation, or declining prices, Hanke said. "Non-performing loans would just explode," he said. ``You would have a real crisis on your hands in China. They're aware of this, so I don't think they'll change.''

Goldman's O'Neill said the currency is undervalued by about 10.5 percent. "Anywhere from 10 to 30 percent is where most credible estimates of yuan undervaluation lie," he said. The firm predicts China will allow the yuan to fluctuate by about 5 percent, compared with the current 0.3 percent.

Hanke helped advise Argentina to peg its peso one-to-one with the dollar in 1991. A decade later, Hanke said the government had tinkered with the system so much it no longer worked as intended.

Argentina defaulted in 2001 after borrowing more on international debt markets in the 1990s than any other developing nation to finance higher spending.

After the default, Argentina gave up its one-to-one currency link, leading to a 70 percent drop in the peso against the dollar and causing the economy to shrink 11 percent, its biggest contraction on record.