China to raise export tariffs on 74 textile goods
(Xinhua)
Updated: 2005-05-20 14:36
China announced Friday it would raise the export tariffs on 74 sorts of textile products, with a 400-percent hike for most of the products, beginning June 1,2005.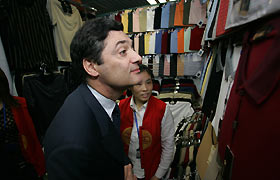 French Industry Minister Patrick Devedjian inspects clothing at Beijing's famous Silk Market yesterday. Devedjian is on a week-long trip to China. [AFP]


The Customs Tariff Commission of the State Council, China's cabinet, said following the approval of the Chinese government, it will raise the export tariffs on 74 textile categories, on which export tariffs were imposed from Jan. 1 this year.

The tariff hike was announced in the wake of a United States decision this week to re-impose restrictions on seven kinds of China textile and clothing imports. The European Union is also pressuring China to take more strict measures to curb textile exports to the European market.

The Commission also announced the imposition of export tariffs on flax yarn, the reduction of that on three varieties of briefs and shorts, and the abolition of that on knitted garment accessories.

China now imposes export tariffs between 2 percent and 4 percent on 148 categories of textile and clothing exports, including coats and skirts. The practice started on Jan. 1 this year as part of the government efforts to prevent a sharp surge inthe country's textile and clothing exports to the American and European markets.






Today's Top News
Top China News

Two bodies found, 49 missing in Hebei mine blasts




FM express outrage at Diaoyu Islands claim




US business chief optimistic over yuan reform




China to raise export tariffs on some clothing




China criticizes new US textile quotas




Deposit rates raised for US, HK dollars