Fixed asset investment growth splits opinion
By Su Bei (China Daily)
Updated: 2005-05-19 23:51
Measures were sought yesterday to allay fears among some economists that the country's economic growth was still expanding too quickly.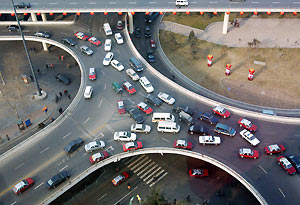 Vehicles crowded on a newly built flyover in Zhengzhou, Capital of Central China's Henan Province May 8, 2005. [newsphoto/file]

Urban fixed asset investment and property development again increased strongly during the first quarter of this year, figures released by the National Bureau of Statistics yesterday show.

Wang Zhao, a senior researcher with the State Council Development Research Centre, said the overall investment situation was good, thanks to the central government's macro control.

But a leading economist, Zhuang Jian, said that while the government's macro-control measures have shown some results, they "are not effective enough."

He said long-term reliance on investment would be "risky."

According to the bureau's figures, urban fixed asset investment reached 1.4 trillion yuan (US$169 billion) -- up 25.7 per cent year-on-year during the first four months of this year.

Real estate development also rose January-April, up 25.9 per cent year-on-year.

To tackle fears that excess production in key sectors such as steel and cement could harm the economy, China has since mid-2003 taken a raft of measures including strict land supply management and lending limits on banks to rein in investment.

The People's Bank of China, the central bank, even raised the interest rate for the first time in nearly a decade, increasing the benchmark lending rate by 0.27 of a percentage point to 5.58 per cent last October.

"The measures are working," said Wang.

But Zhuang, a senior economist with the Asian Development Bank, said growth of fixed asset investment was still too high.

"Growth shows no sign of weakening," he said, adding "and the size of investment is still too large."

He said: "If the government wants to achieve its 16 per cent growth target this year, it will have to take further tightening measures including an interest rate rise."

The central bank has room to raise the interest rate further, he added, because the current lending rate is still quite low.

Zhou Jingtong, a senior economist with the State Information Centre, agreed that investment growth was running "relatively high."

"The government will not relax its macro-control measures, but I don't believe there will be further tightening measures," said Zhou.

The government does not want to see a dramatic slow-down in fixed asset investment, he added.

"Fixed asset investment will continue to be a leading force in China's economic development," he concluded.

The Chinese economy, fueled by 22.8 per cent growth in fixed asset investment, rose 9.5 per cent year-on-year during the first quarter of this year.

According to Wang, the economy has entered a new development period, as the country's consumption structure has shifted from small items such as TVs and bicycles to larger items such as houses and cars.

This up-shift will lead to strong demand for energy, electricity, raw materials and other products, fueling more investment, he said.

Foreign companies with increasing enthusiasm for the Chinese market also created large investment demand.

In spite of their differing views, all three economists agreed the government needs to prevent investment from becoming overheated.

They believe the government should focus on consumption demand rather than investment to maintain sustainable economic development.

"Long-term reliance on investment to fuel the country's economy would be risky," Zhuang said.

Too-fast growth in fixed investment coupled with weak demand would result in oversupply of products, a situation which would have a negative impact on the economy, he explained.




Today's Top News
Top China News

Fixed asset investment growth splits opinion




Premier Wen: China to sustain rapid growth




Coal mine blast traps 51 miners underground




China urges Koizumi to avoid war shrine visit




Koreas can't break nuclear impasse




US expands curbs on clothing from China