FM express outrage at Diaoyu Islands claim
By Qin Jize (China Daily)
Updated: 2005-05-19 23:42
China yesterday denounced nearly 20 Japanese who have claimed permanent residency on the disputed Diaoyu Islands.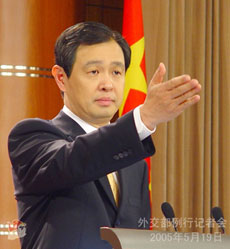 Foreign Ministry Spokesman Kong Quan takes a question from a reporter at the ministry's routine press briefing in Beijing May 19, 2005. [fmprc.gov.cn]

Foreign Ministry Spokesman Kong Quan said China was "firmly opposed to" and "will never accept" such a move.

The Japanese Government announced on Tuesday that 18 Japanese citizens have registered permanent addresses on the islands, a group of islets in the East China Sea.

Kong said any unilateral action taken by Japan on the Diaoyu Islands "was a serious infringement on China's territorial sovereignty."

He said the claim by the 18 for island residency was "illegal and invalid."

Kong added: "China's stance on the Diaoyu Islands is clear and consistent."

He noted that Diaoyu and surrounding islands have been part of the Chinese territory since ancient time, saying that "China holds indisputable historical and lawful evidence [of this]."

At the FM press conference, Kong also urged Japan "to face up its wartime atrocities honestly."

He was responding to the comment in Tokyo made by Japanese Ambassador to China Koreshige Anami who said he believed China would probably not support Japan's bid for a permanent seat on the United Nations Security Council (UNSC) even if Prime Minister Junichiro Koizumi stops his visit to Yasukuni Shrine, where Japan's war dead -- including Class-A war criminals -- are enshrined.

Kong said he hoped the Japanese leaders translate "their apology and remorse into practical actions to convince the Asian people and the world."

On the reform of the UN Security Council, Kong said the draft resolution of the "Group of Four" had shown a big gap among the positions of many countries.

"It is necessary to conduct thorough and democratic discussions and to listen to the voices from vast member countries, especially those developing countries," said Kong.

It is understood the United States is ready to consider the proposal made by India and three other G-4 countries, but so far Washington has only endorsed Japan's bid.

A draft resolution circulated by India, Brazil, Germany and Japan -- known as the G-4-- calling for expansion of the UNSC from 15 to 25 members, was distributed on Tuesday.

Space militarization

Kong yesterday also reiterated China's opposition to the militarizing of space.

Kong said he had seen reports that the US is not seeking to militarize space, that claimed the US Air Force was seeking presidential authority to undertake such a programme.

He said China maintains the idea of adopting active precautious measures, including negotiations and drafting of the related international documents to guarantee the peaceful utilization of the space.




Today's Top News
Top China News

Two bodies found, 49 missing in Hebei mine blasts




Hanke: It would be 'foolish' to revalue yuan




Koizumi eyes China ties, defends shrine visits




China to raise export tariffs on some clothing




Beijing to allow mainlanders to visit Taiwan




Deposit rates raised for US, HK dollars