China-Japan free trade agreement urged
(Xinhua)
Updated: 2005-05-19 14:26
Vice-Premier Wu Yi stressed Wednesday the significance of the Sino-Japanese economic relations and called for a bilateral free trade agreement for long-term and active ties.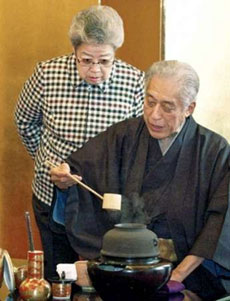 Chinese Vice-Premier Wu Yi looks over the shoulder of former Urasenke grand tea master Sen Genshitsu as he demonstrates a Japanese tea ceremony at a hotel in Nagoya, central Japan May 18, 2005. [Reuters]

The bilateral trade and economic co-operation plays an important role in the Sino-Japanese relationship.

"Such ties have been tremendously fruitful thanks to the marriage between Japan's advantages in finance, technology, equipment and managerial experience, and the extensive market and abundant labour force of China," Wu said at a ceremony celebrating the 50th anniversary of the Tokai Japan-China Trade Centre, an institution engaged in promoting bilateral economic exchanges.

Wu noted the economic ties are growing both intensively and extensively and developing into a win-win situation, which serve as an essential foundation for an ever-lasting bilateral relationship.

Stressing there are more reasons for co-operation than for competition in the future, Wu brought forward a six-point proposal.

First, speeding up the building of the Sino-Japanese free trade agreement; second, actively pushing forward with the energy co-operation in the spirit of equality and mutual benefit; third, strengthening dialogue on strategies in various sectors, such as steel, shipbuilding, information technology, software; fourth, cementing technological co-operation featuring more technological transfer from Japan and joint research and development; fifth, expediting Japan's investment in backwater areas in China; last, expanding co-operation of middle- and small enterprises.

Wu, who arrived in Japan on Tuesday on an eight-day visit, also met with Japanese Economy, Trade and Industry Minister Shoichi Nakagawa and Land, Infrastructure and Transport Minister Kazuo Kitagawa.

Agreeing with Wu, Nakagawa said up to 20,000 Japanese firms are running business in China, which demonstrates the importance of economic co-operation.

Kitagawa promised Japan will make substantial efforts to facilitate the bilateral exchanges as the ties "are very significant."




Today's Top News
Top China News

China slams US over textiles, denies yuan manipulation




Premier Wen: China to sustain rapid growth




Coal mine blast traps 51 miners underground




US expands curbs on clothing from China




US raising tensions over China's currency




China-Japan free trade agreement urged