Rescuers in bid to save 51 trapped miners
By Guo Nei (China Daily)
Updated: 2005-05-19 11:35
Relatives of over 50 miners were last night hoping their loved ones had survived an underground blast at a coal mine in Chengde in North China's Hebei Province.
Fifty one miners are believed to be trapped after the explosion at Nuan'erhe Coal Mine in the early hours of yesterday morning.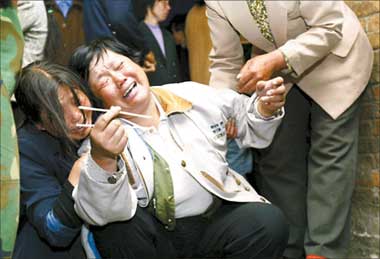 Distraught...relatives of trapped miners are overcome by emotion at the Nuan'erhe Coal Mine in Chengde, Hebei Province, North China May 19, 2005. A gas blast in the mine has trapped 51 miners underground. [newsphoto]

Rescuers have been working around the clock and had pulled over 30 miners clear but have yet to clear collapsed tunnels and reach the remaining workers.

It is unclear whether the trapped men are alive. Relatives of those trapped are keeping an emotional vigil at the colliery.

The workers have been in the Nuan'erhe Coal Mine since 3 am yesterday, and rescue work is in full swing.

Altogether 85 miners were working underground. By press time 34 had been rescued.

"It's not clear whether they are alive or not," the State Administration of Work Safety's press official said.

He also said the administration's minister, Li Yizhong, had also gone to the site to supervise the rescue operation. The blast has aroused "great concern" among senior central government officials, he said.

The mine's tunnels have as yet not been reached. "We earlier ordered the coal mine owner to shut down the mine but he just turned a deaf ear to us," said an unnamed official in the provincial work safety bureau.

Hebei Governor, Ji Yunshi, and other government officials have also rushed to the accident site to direct rescue efforts and investigate the cause of the blast.

Located at Nanzhangzi Village in Bajia Township, the mine used to be State-owned but was auctioned to the Beijing Guodian Zhongneng Electric Fuel Investment Co Ltd for 65 million yuan (US$7.83 million) in December 2003.

The coal mine was built in 1982 and put into operation in 1987 with a designed annual production capacity of 210,000 tons. It was hit by two big gas blasts in January 26 and 27 in 2002, leaving 29 miners dead and 11 others injured.

The Hebei provincial government has decided to overhaul all coal mines across the province to improve production safety.




Today's Top News
Top China News

Rescuers in bid to save 51 trapped miners




FM express outrage at Diaoyu Islands claim




China criticizes new US textile quotas




Deposit rates raised for US, HK dollars




Fixed asset investment growth splits opinion




Biz survey: Gov't needs to improve